At the beginning of the year, all companies are putting together their plans to ensure a successful year ahead. Developing a strong marketing strategy is always at the forefront of these preparations.
In recent years, most businesses have placed a high priority on online marketing, taking advantage of the numerous advertising opportunities that the digital world provides.
With that in mind, here are 6 strategies you can implement to grow your business successfully in 2022.
Build a Good Social Media Presence Across Various Platforms
It's not a secret for anyone that social media has become a very fruitful field for businesses to reach their target audiences. Due to the COVID-19 pandemic, many companies have discovered the advantages of moving their business online, and a lot of them have made a complete or partial transfer. This has strengthened the importance of having a good social media presence even more.
If you already have a good profile on some of the most popular networks, like Facebook, Instagram, and/or Youtube, you should consider promoting yourself on other platforms as well. One good idea is to take advantage of those that are also popular but still growing, like TikTok.
Investing in your TikTok growth is smart not only because it already has 1 billion monthly active users but also because a lot of businesses still focus their social media marketing efforts on the other social media networks. This can make it much easier for you to reach new potential customers and stand out from the crowd. Finally, don't forget to adapt your content according to the preferences of the users of each social media platform you use.
Invest in Content Marketing
Content marketing has proved to be fundamental in any marketing strategy, and if you haven't so far, you shouldn't hesitate to take advantage of it in 2022. Focus on creating high-quality content on your website, to stand out and prove your authority on different relevant topics. Next, work on getting others to link to your content to improve your site's ranking. Having others link to your content, or mention or quote you, will also help you gain credibility.
Moreover, learn about other ways to improve in all of these areas. Some strategies to do this include:
Writing content regularly;
Auditing and updating existing content accordingly;
Using specific keyword phrases;
Create good meta tags (meta title, description…).
Be a Smartphone-Friendly Business
More than half of the world's population uses smartphones, and a lot of them use them exclusively for anything related to the digital world – including things that are relevant to your marketing strategy, such as reading blogs, searching for products or services they need, researching companies, etc. To take advantage of this opportunity, you should optimize your website and adapt it to work perfectly on smartphones, as well as other mobile devices.
Create a Mobile App
Considering this reality, you should also think about developing a mobile application for your business. Mobile apps have made a huge impact on people's everyday lives. As a result, today you can find countless tools for mobile app development. With these tools, learning how to create an application isn't as hard as it once was, even if you aren't a programmer experienced in writing code.
More and more businesses use them as a great channel for engaging with their target audience. Aside from helping you boost engagement, a good mobile app will improve customer experience, and give you a way to be constantly present in your potential clients' favorite devices, even if they are offline.
Organize Virtual and Hybrid Events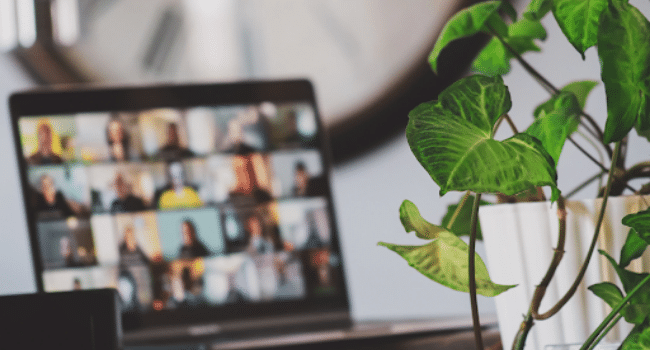 Because of the pandemic businesses were forced to find new ways to communicate with their audience, which has inspired some very creative, innovative, and useful tools for organizing fruitful virtual events. With things slowly calming down, many have continued this practice, offering events that happen entirely online or combining in-person and virtual presence for their so-called hybrid events.
Virtual events give you a chance to reach far more people than you could if you were organizing a conventional event. They can cost less, they are more eco-friendly, and so on. Hybrid events on the other hand give people a chance to choose the format they prefer – with a great potential of positively affecting the experience for many of the participants.
Prioritize Privacy and Security
As the world becomes more and more digital, as technology advances and data science progresses achieving incredible things in various fields, distrust in cyber security amongst many is becoming a more and more serious issue. This worry about privacy and security is partly due to many controversial failures in data protection by some huge, powerful online platforms. Keep your customers' data as protected as possible at any given moment, and make sure that they know how important this is to you.
Final Words
This year digital marketing will continue growing, and it should be the focus of your strategy. Remember that it's crucial to follow the constant changes in technology, and take advantage of new tools developed for marketing. Standing out, however, can be a huge challenge, so consider hiring professionals to help you develop a marketing strategy and achieve your objectives.
Read more on KulFiy
5 Marketing Strategies applied by Webtrends in Their Projects
Eminent Digital Marketing Strategies to Generate Quality Leads
5 Tips to Write A Killer Resume as a Digital Marketer