To buy or rent—that depends on your goal. In some cases, buying will work out for you or vice versa. If you are set on giving bridesmaid robes as a gift to your bridesmaids, then renting is apparently out of the option. These two options have their pros and cons, and your choice will depend on several factors.
Moreover, if you want to make an heirloom out of your bridal gown, then of course, you'll have to buy, adding embellishments on the side and making sure they are well-preserved. In this article, we'll point out when you will need to rent or buy. Take a look at these determiners:
Buying Vs. Renting: Number of Choices
Rental boutiques and shops have limited options and you might have already noticed it. This is because their business will have several requirements for operation, from the storage warehouse and dry-cleaning fees to preservation methods. Most of them may only have a maximum of 10 or 15 bridal gowns to choose from. Sizes, colors, and styles will really be limited.
But if you have racked up so many bridal rental shops online or onsite already and you still haven't quite found something that clicks for you, then you might have to widen your option to buying. Apparently, you will want the best gown for your special day. When you buy, your options are absolutely endless.
Plus, when you buy bridesmaids robes set of 6, you will have plenty of choices too, and get just the right sizes and colors for your ladies. This comes very handy when your maid of honor and bridesmaids come in all sizes.
Buying Vs. Renting: Regarding the Process
Renting takes a lot more process than buying. Usually, when you rent, you will go through the options your selected shop offers, fill out a form several months or weeks before your wedding, and indicate what size, color, and style you want if they are available, and then they will ship the items to you a week before the ceremony.
Most of the time, rental shops also provide you with second-size options for free just in case your original order doesn't fit. Then, after the wedding, you're responsible for handing them back in a pre-packaged envelope and paying extra for the damage if there is.
On the other hand, buying takes on a simpler and more straightforward process. Basically, it's the same as buying anything online. You look through their dress collections, choose your style, color, and size, and then place your order. Turnaround time for shipping may be longer, especially when your chosen shop is overseas, so your parcel may just arrive to you in around 8 to 14 weeks.
Some shops even go as far as letting you try the dress before you buy it so that you avoid any regrets in terms of style and size later on. Your bridesmaids can also try their robes to see if they would really fit. Overall, comparing the process you have to take on for each, buying is more convenient, as you will not have to stress out gathering the items and sending them back to the rental shop. Plus, you will have the peace of mind of knowing that what you will receive is exactly the right size.
Buying Vs. Renting: Which Is Cheaper
If you are on a budget, renting is inarguably the cheaper option. In fact, much cheaper than buying. Some rental shops offer just around $75 to $115 bridal gown rental price, which is really reasonable since you are only just going to use it for one night. For as long as you take good care of your gown, you will not have to pay extra charges for the damage, which can take up to $25, or even pay its full retail price.
Additionally, rental boutiques offer packages too for other wedding attires, including the robes for bridesmaids, flower girls, maid of honor, and mother of the bride, which makes this task easier for you. Buying, on the other hand, can be really pricey, but worth it when you want to wear them years even after your wedding.
Satin robes can be within the $100 and $300 price range, and they can really be cheaper when you buy them in bundles or patiently wait for when bridal shops announce their discounts and special promos. When you search for and purchase wedding attire as early as possible, some shops even give you a 10 percent discount when you buy on the spot at your first appointment.
When you buy, you have something to keep for yourself as well as your bridesmaids. Bridesmaid robes can still be used even after the wedding on other occasions, such as at the beach, pool, spa, or hotel, and even as comfortable, elegant home wear. In the case of price and affordability, renting wins, but if you want something as a wedding keepsake, then buy a bridal gown and bridesmaid robes for yourself and your entourage.
Buying Vs. Renting: Sizing and Alteration Concerns
When you rent, especially bridesmaid robes, it's usually one size fits all, especially when it's all that is available. Rental shops may offer a second size as an option, but there are times when neither of the two may work. With renting, you will have to do with whatever is available and almost always, will require minimal alterations for yourself or your bridesmaids.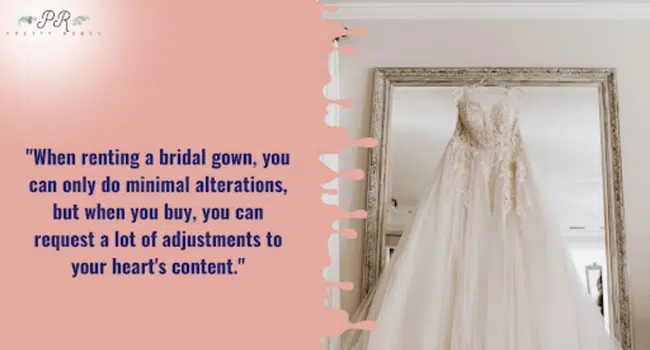 However, when you buy, you can be sure the bridal gown and bridesmaid robes are in their right sizes, as you have more options and the opportunity to take measurements first. And since you bought the item, you can request alterations as much as you want and to your heart's content. You can add sparkles to your bridal dress and even monogram your bridesmaid robes. Sizing adjustments and alterations that you can do is endless!
Buying Vs. Renting: Choice of Fabric
With rental attires, you can only have what's available and that means you have no say on the kind of fabric you and your entourage will wear. The kind of fabric you choose is most crucial, especially when your skin is extra sensitive or you have an underlying skin condition, as well as other people with roles in your wedding. Silk or silk satin fabrics are better in this case as they are hypoallergenic and have thermo-regulating properties that make them really gentle and comfortable on the skin.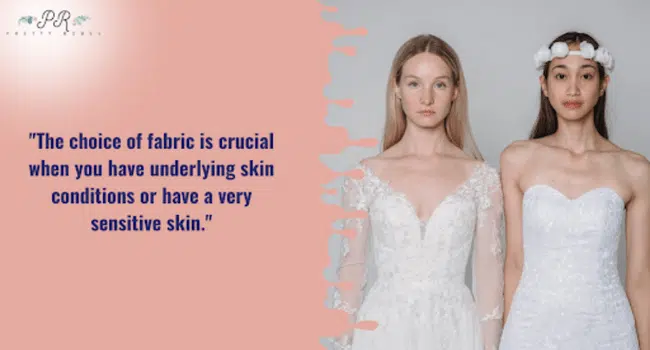 The downside to these kinds of fabrics is that they can be really expensive, especially when you need more amount of textiles to make the dress. But it can be really worth it when you or your bridesmaids have serious skin conditions and have always been careful of the kind of fabric you wear.
Every bride has a different budget set for the wedding. Make sure that you stick to that budget in selecting your bridal gowns and bridesmaid robes, and most importantly, don't fall into impulsive buying. Make your research and purchase as early as possible so you will get the best dresses that you will not be regretting later on.
Read more on KulFiy
Tips for wearing fashion jewelry to match your style and attitude
How to Care For and Store Your Jewelry GP
Fall Fashion Trends: What to Wear This Season