Did you know that the quality of your mattress can significantly impact the quality of your sleep? It's true! When you invest in a good-quality mattress, it has a positive effect on your sleep and overall well-being. Unfortunately, an uncomfortable bed is a primary reason so many people have trouble falling and staying asleep. Also, it's not easy to find the perfect mattress for your needs if you do not know about it. It can get difficult to find the right mattress with so many different brands, models, sizes and price points to choose from. In this article, we'll give you some helpful tips on how to find the perfect mattress for your needs.
Tips Before buying a mattress.
It is not a very common fact, but before you even start thinking about what mattress you'll buy, you need to consider how you sleep. There are three prominent sleep positions: back, side, and stomach. Depending on how you sleep, you'll want a different type of mattress. But it's important to know your sleeping position first so you can find a bed that supports your body type. For example, back sleepers want a medium-firm mattress with a high level of Support. Side sleepers want something softer and less dense. And stomach sleepers need a firm mattress. It is crucial to know because the wrong mattress for your sleeping position can lead to back pain and other aches and pains. It's easy to overlook this, especially if you've always slept on the same type of mattress.
Know the different types of mattresses available
Next is to start narrowing down your list of potential mattresses to understand the different materials and methods used to make mattresses.
Here are a few common types:
Innerspring: Innerspring mattresses are built around coils that provide some firmness and Support.
Foam: Foam mattresses are some of the most common and come in both single-layered and multi-layered models.
Hybrid: Hybrid mattresses combine different materials to create a comfortable and supportive sleep surface.
Memory foam: Memory foam mattresses are soft and pressure-relieving.
Latex: Latex mattresses are close to memory foam, with a few key differences.
Mattress dimensions and sizes
Before finalizing a mattress, you'll want to know the dimensions and measurements of your current mattress or bed frame. For example, if the frame is too small or big, you'll need to buy a new bed frame for the mattress purchased. Hence it's something you'll want to plan for before going buying a new mattress, especially if they ordered online.
In addition to the measurements of your current mattress, you'll also want to know the mattress size you want to own. Some pre-set sizes are available in bed frames and mattresses that fit perfectly on them. Some commonly established mattress sizes can be categorized into single-mattress, double-mattress, queen-sized and king-sized mattresses. Queen-size and King-size mattresses are generally the biggest ones, and each type has its own standardized measurements, which are universally followed.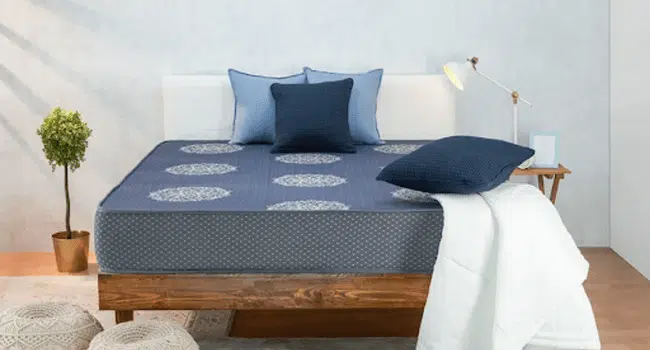 How to find the best mattress deal?
Now that you know the types and measurement details are covered, the next step is to find the best mattress in India deal. You can easily start your search by googling and getting basic details. You'll also want to make sure you're browsing around at multiple stores and online retailers. This will help you get the best deal possible on a quality mattress. Many mattress retailers have sales cycles where they'll mark down certain mattress models. Also, festival seasons are a good time to take advantage of the offers and promotions. If you're more comfortable shopping for a mattress online, there are a few good websites and platforms you can check out. While some websites are an excellent source for unbiased and thorough reviews, others have a huge selection and free shipping. Hence, plan and choose wisely!
Mattress Firmness and Support levels: what to look for?
Lastly, it's very important to know that firmness is different from Support in a mattress. In fact, they refer to two totally different things. Firmness is all about the immediate feeling you experience when first lying down on a mattress. However, Support refers to how well the mattress keeps your spine in alignment. But there's no hard rule when it comes to finding the perfect level of firmness. That's because everyone has different preferences and body types. Many online retailers provide customer reviews and average firmness ratings for each mattress model. If you're shopping in person, you can touch and feel the mattress to get a sense of its overall support level. Ideally, you'll want to lie down on different mattresses for 5-10 minutes to get a feel for the actual support level.
Final Words
You'll reap the rewards when you put in the effort to find the right mattress. It will result in a night of better sleep, comfort feel, and more energy throughout the day. In the end, you'll have the satisfaction that you made an effort to find the perfect mattress. Now, to acquire the perfect mattress that best fits your needs, all that is left is to execute the plan drafted.
Read more on KulFiy
Bedroom Additions You Didn't Know You Needed.
Caring For Bedding: Important Must-Know Tips