As a line manager, you likely have various responsibilities every day. You would need a strong set of skills to fulfill these responsibilities. Managing employees is just one part of a line manager's job.
You'd also have to oversee their work to ensure they're meeting business goals. But, this isn't an easy feat to achieve in today's business climate. Most industries today are highly competitive and demand the very best management skills.
A few tips and tricks to help you hone these skills should be useful in the long run. So, here are 4 ways to be a great line manager and guide your team to success.
1. Update Your Skills
The first thing to remember as a line manager is to have the necessary skills your role demands. The changing needs of most industries demand more from line managers than it did before.
So, it's no surprise that a good line manager training is a key asset to leading your team. If you're a line manager, receiving cross-training would be a good idea. Cross-training involves having working knowledge in more than one area.
A cross-trained manager would know how to do more than one specific job. This allows managers to become well-rounded professionals. A well-rounded manager is better able to deal with complex business problems.
Cross-training also involves learning to execute tasks by working with other staff members. This would allow you to pool your expertise and come up with credible business solutions.
Having the right training helps managers improve the efficiency of their work. Departments don't need to rely on external help if they have skilled line managers on hand. They wouldn't need to always refer problems to senior staff members for the same reason.
A line manager who has the right training will be able to come up with quick solutions to any problem, or they'll know which staff member to turn to for the same.
2. Have Well-Defined Goals
Another important tip for line managers is to have well-defined goals. If you don't know what your goals are, you can't expect efficiency from your team. You and your team should always be on the same page if you want to get work done.
To do this, you should first know what your goals are for your department. This starts with making vision boards and charts that help you jot down your ideas. After you're done with this, you can assess the feasibility of these ideas.
If they appear workable, you can go ahead and base your goals around them. Writing down your goals should include suggestions for how you can achieve them. You can then communicate these goals to your team members.
It's easy for a line manager to go off-track when working with their team. After all, several daily tasks crop up that demand the attention of a line manager. This is why you need to explain your goals to your team members.
If they have a clear understanding of your goals, they can work on them even when you're not available. You should take care of short and long-term goals when working with a team. Ideally, your short-term goals should align with your long-term goals. Helping employees achieve short-term goals will ensure that wider company objectives are met.
3. Learn to Trust Your Team Members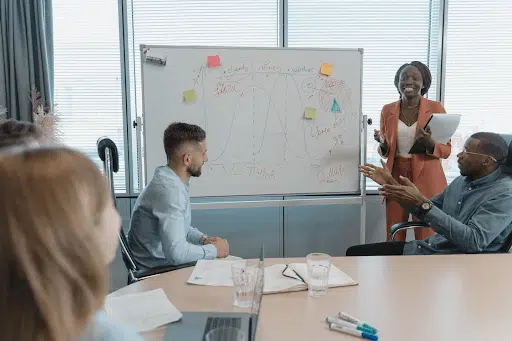 Line managers sometimes assume too much responsibility on behalf of team members. You shouldn't be micromanaging your team if you want them to achieve your business goals. Employees are likely to feel as though you don't trust them to perform simple tasks if you do this. Give your team members the space to use their creativity in solving problems.
This doesn't mean that you shouldn't keep a keen eye on what your team is doing. As a line manager, you should always be aware of what employees are up to. This however in no way means that you have to interfere with every nuance of their  daily tasks.
Give your team members more autonomy to make decisions that positively affect the outcome of your projects. This will allow them to explore their potential and deliver results. It will also reduce the workload you'll have to deal with as a line manager.
4. Use Ethical Practices
An integral part of being a line manager is promoting ethical practices. It's easy to look the other way when employees are engaging in wrongdoings. Sometimes, it's also tempting to collude with them for personal gain.
But, you have to lead from the front when it comes to promoting the right values. You shouldn't preach to your team members about ethics when you can't practice being ethical. Line managers work more closely with their employees than senior managers do.
So, employees are usually aware of the activities of their line managers. This is enough motivation for line managers to be on their best behavior at all times. This not only sets a good example for employees but serves to uphold the values of the company.
After all, good ethics among employees is the key to good corporate governance. Distributing work properly is a part of good ethics for line managers. Managers shouldn't abuse their position and give employees too much work. They should be willing to shoulder some of the burdens too.
Also, these managers should be open and honest in their dealings. A line manager has to communicate the goals of the company to junior staff members. In this way, they act as a bridge between senior management and employees.
So, line managers need to report the decisions of senior management honestly. They should also discuss the concerns of junior employees with senior management.
All the managers in an organization should create an ethical work environment.
Conclusion
Line managers play an integral role in helping organizations work towards their business goals . Not only that, but they also help employees to excel at their jobs. So, line managers must be aware of their responsibilities at all times.
Line managers are responsible for implementing the strategies of various organizations. In many ways, this is as important as making strategic decisions for the company. So, you can see why line managers must always put their best foot forward as leaders for their teams.
Read more on KulFiy
What To Do When Your Employer Doesn't Encourage Paid Time Off (PTO)