When comes to the season's change, you're probably wondering about how to prepare your new wardrobe. But have you ever thought about updating your wardrobe simply with a Slimming Belt? This is the best and most economical way to start, because having the right body shaper or waist trainer can help you rediscover the clothes you already have. Discover the 4 types of slimming belt that are invisible under clothes that have won our preference.
The right shaper can make your old Favorite Looks fit right again. When you have the right waistband as a base, suddenly that top or dress that didn't fit your body will look so much better. The seamless body shaper can smooth your curves so clothes fit the way they were designed.
Whether last year's jeans are a little too tight or you don't like the way the sweater looks, don't toss it in the donation pile just yet. Update your strap collection first, then build your new wardrobe from there.
Here are 4 types of shapewear that's invisible under clothes that can help you revamp your entire look, plus tips on how to best use it so it doesn't show.
1. Modeling panties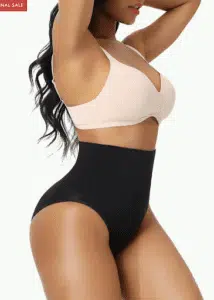 You're going to wear panties every day anyway, so why not wear a dual-purpose panty like this one? A shaping panty will slim your waist, flatten your tummy and avoid the top of that famous line we hate. You may find that your jeans fit much better and more comfortable when they have a flat bottom underneath.
This panty provides firm compression across your entire waist, ensuring you have a flat waist all the way around and a flat abdomen. What makes this panty special is that it actually goes right up to your bra! So it essentially works like a full body shaper but is easier to put on and take off and easily matches your favorite bra. And you'll never worry for a second about rolling or sliding, because the top is securely in place.
Whichever of the 4 types of curling iron you choose to be invisible under clothing, be sure to use a color that matches your skin tone or the fabric you are going to wear over it. Most panty shapers hug and cover at least your waist so that no one suspects your secret.
2. Modeling Vest
This is a wardrobe staple, especially for seasons where you will be layering clothes. As with shaping panties, you'll likely wear them under your blouse, so why not wear one that enhances your figure?
This type of belt provides an intense reduction of 10 to 15 cm in the waist area with the uncomplicated style of a vest. Its under-bust strap design allows you to match it with your favorite bra, so you can provide extra support and lift your bust while thinning and reducing your waist. This particular vest is ideal for fitted blouses and slim tops.
As with any of the 4 types of shapewear that are invisible under clothing, the vest and bra must be a similar color. Also, be sure to be aware of your straps and the type of coverage your blouse provides if you don't want them to show. Keeping this in mind, a shaping vest should be invisible under most clothes, especially a plus size waist trainer.
3. Butt Lift Shaper Short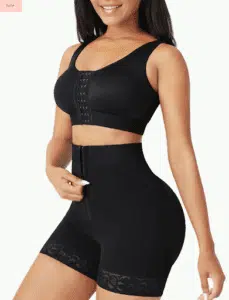 When you wear tights or dresses and skirts, you want to have slim, toned thighs and a round, lifted butt. You too can get great results with this butt shaper.
Shaper shorts are a versatile shaper that can be a joker in your wardrobe, especially for days when you want to wear a skirt or dress. With an open-bottomed design, you'll get a natural, firm lift of your butt along with a smooth reduction from the waist to mid-thigh. The bust-length design provides extra support and support with your favorite bra.
Check the length of any skirts or dresses you wear with these shaper shorts to make sure they don't bulge (if you have a particularly short skirt, try a simple abdominal shaper).
4. Body Shaper
Whenever you need to fully dress up a dress, sweater, or other outfit that highlights your silhouette, a full-body shaper is an obvious choice. You can slim down and reduce your belly, lift your butt and support your bust in one piece.
The Body Shaper is a powerful piece that creates a smooth base with its double layer of Sculptshe's exclusive technological fabric. This is a key piece for any body-hugging outfit. This styler is also fully glued, which makes it invisible under your clothes.
We hope you're inspired to give your wardrobe a makeover so you can rediscover what you have and feel confident in whatever you're wearing!
Read more on KulFiy
A Glance At Different Types of Shapewears!