Glasses can reflect your sense of style and highlight your facial features. Therefore, you can choose the shape and style of your specs, considering the shape of your face. If you have a round face, then the soft lines of your face need square frame glasses to make your features look sculpted.
Though it can be tricky to select eyewear that is suitable for casual use and at the same time look great with formal attires, square frame glasses are timeless, and they have never left the trend. Square frame glasses come in multiple styles, and there are plenty of options from where you can make a choice. The thick black, and square, specs will give your look a retro vibe, while the clear glasses can be the perfect pair to make your jaw and forehead look elongated and thinner.
Glasses are fashion accessories, and the trend changes now and then. Square frame glasses are always trendy and suitable for different clothing styles. Therefore, while choosing a frame for yourself, you can look for square frame glasses that highlight your facial features and suit your fashion sense. If you are looking for square frame glasses before getting yourself one read on to find the best options, you have in hand.
Brown Square Men Eyeglasses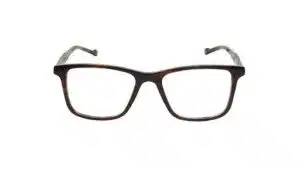 If you identify your style as minimalistic, square frame glasses should fit your taste. This pair can create a classy look with its thick square frame. They are great for comfort, and, at the same time, they match the office and formal attires well, without making themselves pop. Although once a part of the nerdy style in recent years, they have earned the status of "classy" and "cool." These Brown Square Men Eyeglasses can give you a professional look while adding a vintage tone. Its thick frame complements the soft features of a round face making the jaws look narrow. Thus, providing a complete facelift.
Black Square Rimmed Eyeglasses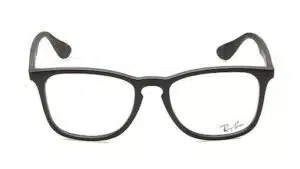 You rarely find anyone not loving Robert Downey Jr. and his mature yet cool style. He was spotted multiple times in thick, black-rimmed eyeglasses and sunglasses. Ryan Reynolds also rocked pairs of black, thick, and square frame glasses. The square rimmed frame of the specs gives a confident look while your face appears sharp, and its thickness highlights the facial lines. If you plan to use your glasses for all occasions, then black square rimmed specs should be the first pick. Whether you wear a suit or jeans and a T-shirt, your black frame will never fail to make you look fashionable.
Silver Square Rimmed Eyeglasses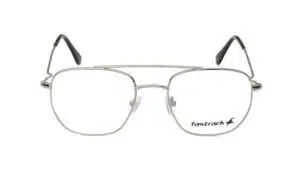 Square glasses with edges give a confident and sharp look. The specs can add a chick look when the frame is metallic and thin. Thus, silver square rimmed eyeglasses are in fashion. They are suitable for formal fits & casual party wear. These square frame glasses can also flair up a regular boring outfit. They are the perfect blend of nerdy and fashionable, which makes them appealing to people who are into minimalistic and chic styles. The thin frame is light and sharpens the eyes, forehead, and jawline. No doubt, their sophisticated look has charmed celebrities all over the world.
Grey Square Rimmed Eyeglasses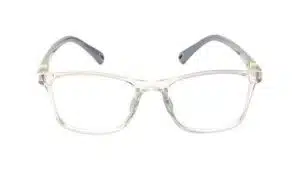 Though grey square frames do not come under the "classic" category, they have gained immense popularity in recent years. The youngsters and road-style enthusiasts are showing interest in grey square-rimmed eyeglasses. The grey frame adds a maturity to the look while they do not particularly have the vintage aura. Hence, people who love hipster and street style welcome grey square eyeglasses. Their dainty yet sharp look highlights the person's skin tone while seamlessly fitting with both formal and casual attires.
When it comes to square specs, you get a wide variety. However, the one that mimics your clothing style is always the best choice for you. But it is best to get the lightweight ones that have a comfortable fitting. If you are worried about how to find a suitable square frame for your round face, it is time to visit your nearest store. You can choose one from the lightweight and trendy collection of mens square glasses that can add to your collection of stylish specs. The Titan Eyeplus and Fastrack showrooms have trendy, classic square glasses collections for men. Why not try to find the most suitable square frame glasses that will perfectly go with your regular office formals, party casuals, and tuxedos?
Read more on KulFiy
7 Popular Eyewear Trends To Follow In 2021
5 Important Qualities to Remember When Buying Sports Sunglasses for Triathlon