Introduction 
This article deals with how to recover deleted photos from Nikon cameras. Photography is a common obsession these days. Everybody, from a layman to a professional photographer, is found capturing moments and making memories. For this purpose, all of them look for a high-quality device, and Nikon cameras top the list. They are robust and provide extraordinary image effects to your pictures. But sometimes, you face an image loss scenario due to technical or personal shortcomings, irrespective of the camera you are using.
Losing your precious images is a terrible situation as they carry many sentimental values if you are a common individual. Besides, if you are a photographer by profession, image deletion means losing hard work and finances. This article will show you how to retrieve lost data/images from your Nikon camera using Recoverit Photo Recovery Software.
Part 1: Can I Recover Deleted Photos of My Nikon Camera?
Nikon cameras are powerful devices that attract multiple customers due to their fascinating appearance, well-built design, and special image effects. They come in numerous models, shapes, explicit features, and enhanced technologies. Many photographers around the world trust Nikon cameras for capturing their masterpieces as their first choice. But despite all the sturdiness, Nikon cameras are machines, after all, and machines betray.
People often find themselves in situations where either due to their mistake or Nikon camera machinery's fault, they lose their cherished memoirs. It leads them to ask the question, "Can we recover deleted photos from our Nikon Camera?"
The answer is yes! You can recover deleted photos from your Nikon camera. Irrespective of the cause of deletion, photo recovery is possible. The primary reason being the deletion operation marking the space of the image as free, but the photos remain intact inside the memory card of the camera. The only time photo retrieval becomes impossible is when some new data overwrite the free space.
Hence, when you realize you have lost some pictures, instantly stop using the camera to avoid overwriting problems. The best, quick, and effective way to recover deleted photos from your Nikon camera is by utilizing efficient and reliable photo recovery software. It is advised to perform this task as soon as possible as the chances of getting your pictures back dim over time. This post will show you a complete guide on how to recover deleted photos by using photo recovery software.
Part 2: What Are the Common Reasons For Losing Photos From Nikon Camera?
Data loss is inevitable and daunting at the same time. Losing your masterpieces, especially when you are a photographer, can be expensive and disappointing, but technology has got you covered. Some of the reasons that can cause Nikon picture loss or popping of compatibility-related messages from cameras include:
Accidental Deletion – It is the most widespread reason why RAW images or other data get deleted. While going through pictures, you press the delete button by mistake, or sometimes kids perform this immature task for you.
Formatting Errors – Careless formatting, i.e., formatting the SD card before copying files to another location in your computer or another device, ends in data loss. Therefore, to save yourself from data loss, become habitual of saving images before transferring them.
A Virus or Malware Attack – Any virus or malware attack on the SD card can lead to data/image corruption. Besides, a virus attack on the Nikon camera machinery can also result in photo loss.
Additional Interruptions – While transferring your pictures from one device to another, data can be deleted due to many reasons. These include external interruptions such as sudden power failure, plugging errors, electricity fluctuations, and incomplete transmission of data.
Corruption of Media Files – It is the most common data loss reason discussed within Nikon communities. Online platforms are flooded with threads discussing photo corruption with Nikon DSLRs.
Mishandling – Irresponsible handling of SD cards such as the spilling of water, sudden fall on the hard floor, and untidiness can damage the card. Hence, the data stored in it can be lost.
Thus, all the reasons mentioned earlier can lead to image deletion. If you face any such situation, stop using your Nikon camera for shunning overwriting issues and immediately seek help. Photo recovery software is highly recommended for dealing with these issues as they recover deleted photos with great ease and in no time.
Part 3: Best Way to Recover Photos from Nikon Digital Camera
Many software and tools in the market can recover deleted photos. However, the most effective and efficient way is to utilize Wondershare Recoverit photo recovery software. It simplifies the process with its intuitive interface and straightforward procedures.
To restore your deleted pictures most easily and proficiently, follow the steps mentioned below:
Step 1: Download Recoverit and Select Nikon Camera/Memory Card
First, download and install Wondershare Recoverit photo recovery software on your device. It is entirely free of charge and easy to download.
Launch Wondershare Recoverit on your computer. Make sure your Nikon memory card is connected to your computer.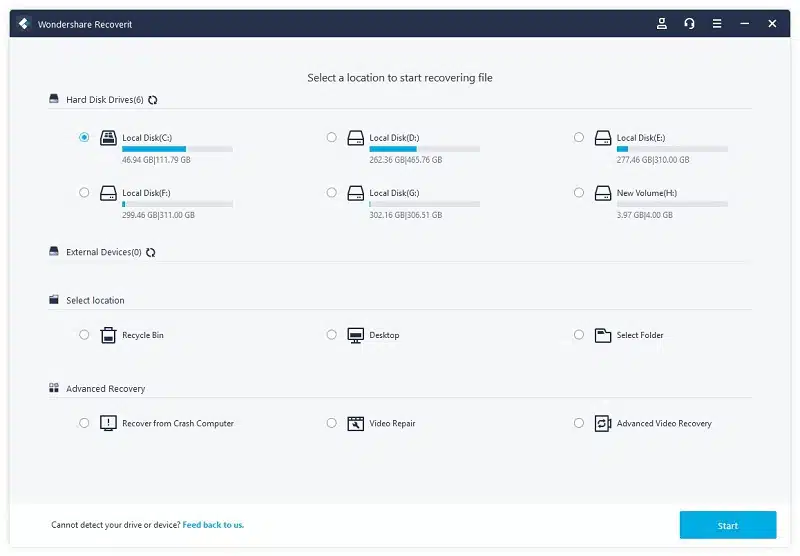 To officially start the process, select the path where you have stored your camera pictures and click "start" to initiate the progression.
Step 2: Scanning for Deleted Nikon Images 
Once the procedure starts, Recoverit will commence the scanning process. It will scan Nikon memory cards worldwide and authentically look for all the deleted and corrupted data. The speed of scanning will be measured by the size of the hard drive or partition.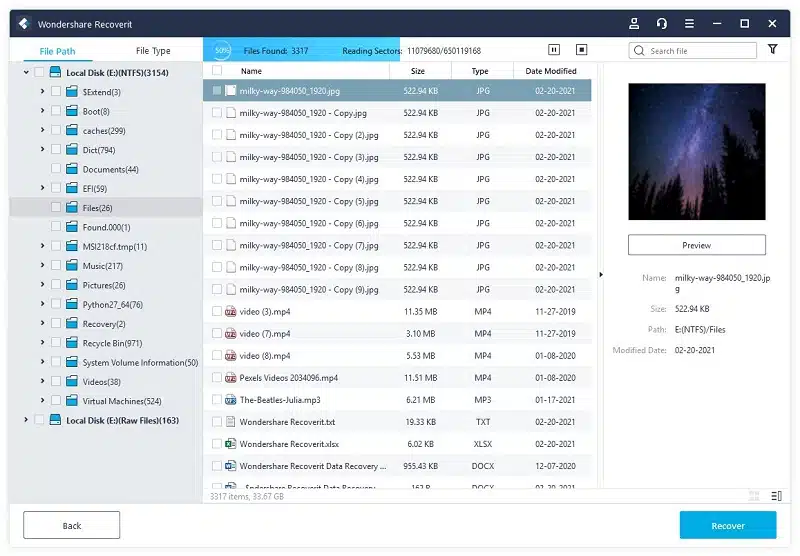 Step 3: Preview and Recover Deleted Photos 
Once the Recoverit photo recovery software has completed the deep scan, then you can preview a few of the recovered photos for your satisfaction. If you are satisfied, you can select the images you want to retrieve and click "Recover."
Hence, the photo recovery procedure has been completed. It only takes three basic steps to recover deleted data by using WondershareRecoverit.
Additional Tip: To keep your recovered data safe, prefer storing it in a secure storage medium to avoid corruption or deletion at this time.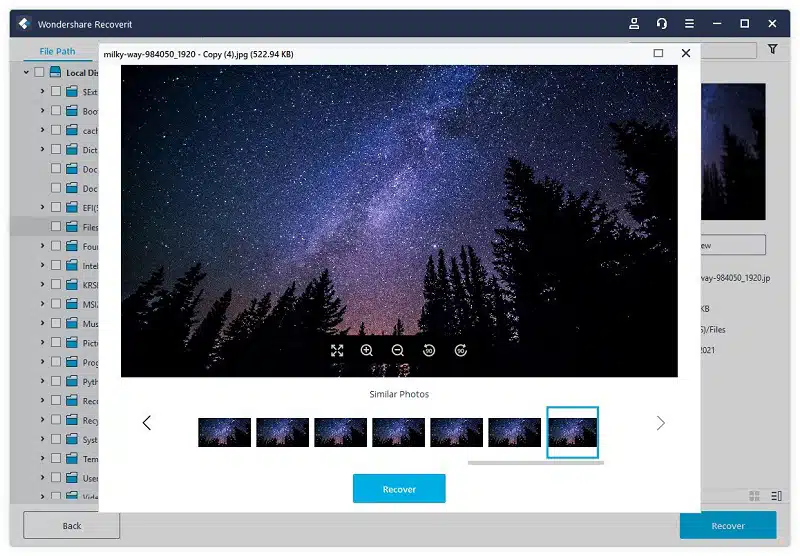 Conclusion 
Nowadays, everybody is seen with cameras in their hands capturing the moments. Photography is a passion for many, and most photographers prefer Nikon cameras due to their structural abilities and exquisite craft. However, it is a machine, and machines get affected by viruses or other technical faults. These issues lead to photo loss/deletion. If you face a situation where you need to recover deleted photos, Wondershare Recoverit is one of the best photo recovery software to perform data retrieval.
Recoverit is the best option due to the advantages or features it offers to its users. It is free, effective, user-friendly, and exceptionally quick in recovering lost photos. Now, you only have to download and install, and you will recover your missing files.
Read More on KulFiy:
Dr.Fone – Virtual Location: The best application to change your iOS GPS and fake GPS movement