In this Internet era, various applications have proven to play an important role in the lives of all of us. Facebook, Uber, Google, Tinder, Reddit, and so on are difficult not to use in our daily lives. Every day we must be accessing one of them. There is no doubt that they have become an essential part of life.
But keep in mind, they work by location. Take Tinder, for example. It filters people based on their location. For example, if you are in Miami and want to meet lots of people, you just have to search and you will find them. But what if you want to get acquainted with people in Los Angeles at the same time? Unfortunately, you can't. Tinder enforces geo-restrictions unless you pay for "premium features". Basically, this application is very helpful but has real limitations. Likewise, with other online dating applications. They all impose pretty strict geographic restrictions for free users.
Or maybe if you want to play Pokemon Go without ever leaving your comfy couch? You can't either. Likewise, if you are in countries like China and want to access online forums like Reddit. You can't. There are clear geographic boundaries. How to get rid of it all? You need a tool that is often referred to as a fake GPS location tool. Something that we will talk about in this article. We'll talk about two apps; GPS Joystick and Dr.Fone – Virtual Location.
If you are an Android user, you can probably use the GPS Joystick. This is a GPS counterfeiting application with the help of joystick controls. This tool is great and is considered to be one of the best on the market. Its striking ability is to create a fake GPS that looks realistic.
Some of the GPS Joystick capabilities:
GPS modifications are made as the joystick direction changes
You can select your fake GPS location with a map or a joystick
Excellent setting options, making it easy for each user to choose according to their needs
Ease of importing and exporting GPX files
You can show or hide the joystick (on your screen) as you like
etc.
However, this application requires confusing steps, not suitable for beginners. Not only that, you also need an understanding of GPS technology to align your joystick with your fake GPS location. And when you play Pokemon Go, you may feel dissatisfied. There have been some unsatisfactory reports of fake GPS tracking results.
As we mentioned above, it can be quite difficult to align the joystick with your GPS location. Here's how (in outline):
Prepare your Android device and go to 'Settings'
From 'Settings' go to 'About phone'. Click on that
Now look at the 'Android version' and the 'Android security patch level'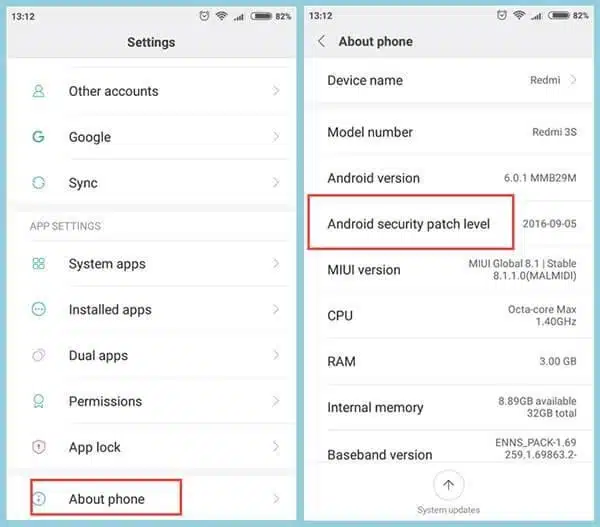 Read More: iPhone 12 Price, iPhone 12 Pro Max, Specification, Comparison
The "Android security patch level" information determines whether you have to go through a convoluted procedure. If the Google Play Services app installed on your device, is running on version 12.6.85 or lower, you don't need to go through this complicated procedure. If you have a newer version (from 12.6.85), you have to disable 'the auto-updates' of the Play Store. And you need to download version 12.6.85 or lower. Basically, for the different versions of Android, you have to go through a different procedure. Let's take an example if you are running on version 4 or 5. You simply download the GPS Joystick and go to 'Developer Options' and click 'Select mock location app'. Click on 'GPS Joystick app' and you will get FGL pro joystick control. Go back to 'Developer Options' and disable 'Mock Locations'. Now you can fake your GPS location with the joystick. Quite complicated, right? If you are not an experienced person, this application is not recommended. And again, this app is only available for Android devices. If you are an iPhone user, of course you need another application.
Dr.Fone – Virtual Location
This is a good app to fake GPS on iOS devices and makes fake GPS movement very easily, much easier than you can do with GPS Joystick. This application can be downloaded on Mac and Windows PC. How does it work?
Download the application to your PC. Install and launch
You will find an interface like the one below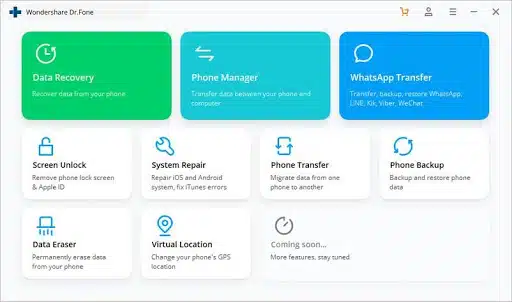 3.Connect your iPhone to PC and click 'Virtual Location'
4. Tap 'Get Started' and add a fake address in 'Teleport' mode. To enter this mode, tap the third icon at the top right of the screen
5. Enter the address in the search bar at the top left of the screen
6. Now your GPS location has changed
7. You can check the results of GPS location faking that you have done in location-based applications
What if you want to create fake GPS movements?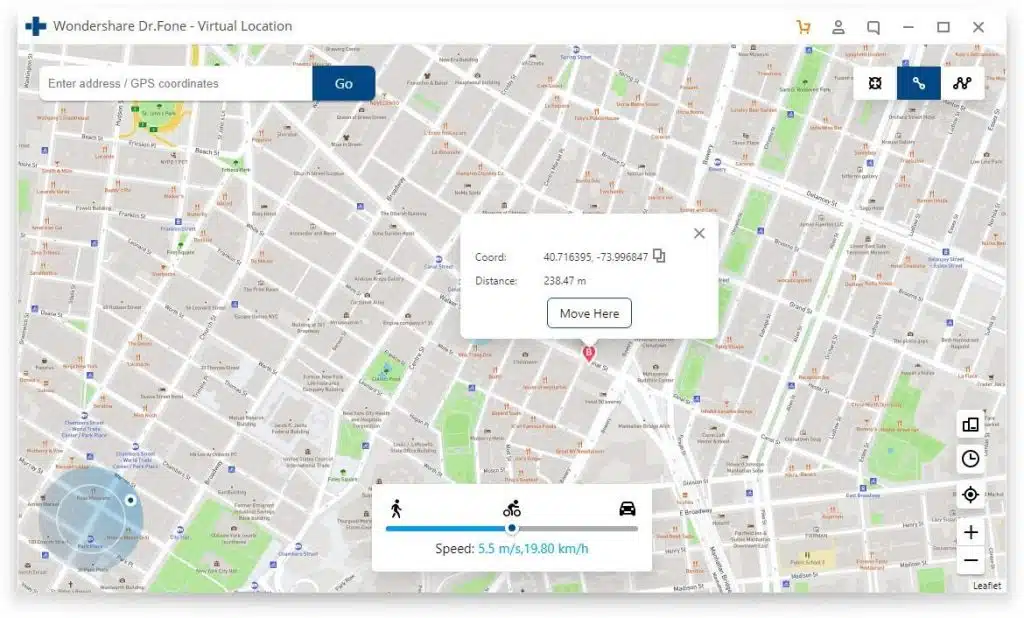 Continue by selecting the 'one-stop route'. You will see a pop-up showing the distance after you select your fake location. Adjust your speed by dragging the slider at the bottom of the screen. Choose a movement mode; walking, cycling and driving. Finish by clicking 'Move Here'.
You can set the number of times you take a route. Click 'March'. Once you finish clicking it, your GPS position will change according to your previous settings. You can also fake GPS movement to multi-locations. You do this by clicking 'multi-stop route'. Continue by selecting multiple places according to your wishes. Continue with the steps as above and you will see that your GPS position will vary to many points, according to what you have previously set.
Dr.Fone – Virtual Location suitable for beginners. Unlike GPS Joystick, this application can be run by a beginner at once. No IT knowledge is required for that. This application can also work on up to 5 different devices. If you are a beginner and an iPhone user, then this app is for you. Hope this article can help you. Thanks for reading and giving it a try!
Read More on KulFiy:
FamiSafe Parental Control App Review 2020
TheOneSpy – What Makes This Spy App Stand Out – Android Spy