Every year when we go on vacation, we take our trusty smartphone with us. It must be said that the device will perform several functions: it will allow us to keep in contact with our loved ones, it will be used to take beautiful photos or to have fun with the many mobile games available. To take advantage of it, we suggest you discover the Dr.Fone software.
Dr.Fone is a software that comes with a lot of features depending on your needs. The program exists in several versions, but it is the one for iPhone that will interest us today.
In particular, it will allow you to easily manage your iPhone, recover deleted data, repair a damaged system or even save your WhatsApp conversations on your computer.
But what we will discuss in this article is one of the products from, Dr.Fone – Virtual Location. This is the best iOS GPS Spoofing tool on the market as it is able to change the location of your iPhone without anyone noticing it. With this tool, you can bypass various geographic boundaries on Augmented Reality games like Pokemon GO as well as Geo-Location based dating apps like Tinder. In other words, you can engineer your location to any location in the world. Isn't that fun?
Not only change the GPS location, but you can also simulate motion. You can act as if you are walking, cycling, or driving a car. In short, anyone tracking your location and movements will think you are and move as you have set it.
This tool can also simulate the movement of up to five devices—no need to use more than one tool to simulate movement on more than one device. In the case of Tinder, you don't have to pay extra to find your potential matches in cities that are far from your current location. Again, you don't have to pay extra to increase your odds significantly.
Nice discounts for Dr.Fone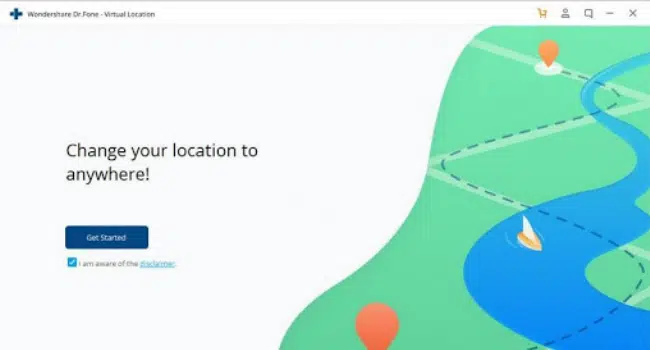 Want to take advantage of the virtual location on your iPhone with dr.fone? Note that the publisher is currently offering its summer sales with an offer called Wonder Voyage, which offers discounts on several of its software.
Dr.Fone is one of them: you can get the "virtual localization" version dedicated to games that use localization like Pokémon Go for 41.99 € instead of 59.99 €, a reduction of 30%.
If you prefer the full Dr.Fone solution for iOS, this version is also on sale at $ 69.99 instead of $ 99.99 on Windows and $ 97.99 instead of $ 139.99 on Mac.
Conclusion:
Dr.Fone – Virtual Location is a tool that is able to provide a simple but still effective solution to changing iOS GPS location. It doesn't take any experience to use this tool, a reason that drives us to rank it as one of the best on the market. Faking location on iPhone has never been easier!
Read More on KulFiy: 
Machine Learning and AI Services That Can Change Your Life