A well-designed bohemian-inspired kitchen captures the essence of relaxation, creativity, and earthy eclecticism. It reflects the spirit of exploration and adventure in the most unexpected blend of vibrant patterns, exciting colors, and cultural accents. The beauty of this style lies in its flexibility—your boho kitchen can be as bold or as laid-back as you wish it to be. Diving into the bohemian design philosophy could lead you to create a space where cooking, dining, and gathering become fun-filled, heartwarming experiences. Keep reading to immerse yourself in the fascinating world of boho kitchen design.
Choices of Furniture
Furniture is undoubtedly the primary aspect of designing your new kitchen. The furniture you choose should reflect the style's emphasis on individuality and craft. Avoid matching sets or contemporary sleek lines; instead, opt for vintage pieces, handmade items, and unique finds. Wooden furniture works exceptionally well due to its natural and earthy appeal. Consider a range of pieces like a rustic wooden table or wood shelves that add texture and warmth and a sense of history to your kitchen.
When it comes to seating, rattan counter stools are an excellent addition. With hints of coastal chic and vintage appeal, these stools blend wonderfully with the boho aesthetic. They add a light, airy feel, and tactile intrigue to your kitchen area while offering comfortable seating. These stools come in various styles and designs, allowing you to find the perfect match for your kitchen decor. From simple and minimalistic designs to more intricate and detailed patterns, there is a rattan counter stool for every boho kitchen style.
Another option could be upholstered chairs in colorful prints to bring in that signature vibe from a quality retailer. Bookshelves, kitchen islands, or carts made from repurposed material also work great in a boho kitchen. Not only do they provide extra storage, but they also provide an opportunity to display your collection of cookbooks, antique dishes, or quirky kitchen gadgets. Remember, in this style, every piece of furniture should tell a story or, at least, spark a conversation.
Understanding Bohemian Aesthetics
Bohemian aesthetics embrace a free-spirited and laid-back appeal, celebrating the unruly charm of natural elements and vintage accessories. This style gravitates towards a 'more is more' approach, heralding an explosion of patterns, textures, and colors that define the boho-chic look. However, this does not signify a cluttered and disorganized space. Instead, every piece of furniture, accessory, color palette, and fabric used has a purpose. They come together harmoniously to evoke a sense of curated chaos that's warm, inviting, and captivating.
To truly understand Bohemian aesthetics, one must embrace the unconventional, the artistic, and the whimsical. Consider tossing out the rule book and letting your creative juices flow. Use a range of saturated colors, work in plenty of plants, and let in as much natural light as possible. Pick out unique, globally-inspired pieces like Moroccan rugs, African woven baskets, and tribal wall hangings to add depth and personality to your Boho kitchen.
Creative freedom is at the heart of Bohemian style. However, the crucial balance between creativity and functionality should not be overlooked, especially while designing a kitchen. It's not just a place to cook or eat, but also a space to gather, share stories, create memories, and even escape for a moment of tranquility. Your boho kitchen should reflect all these diverse functions through its design and decor.
Color Palette and Patterns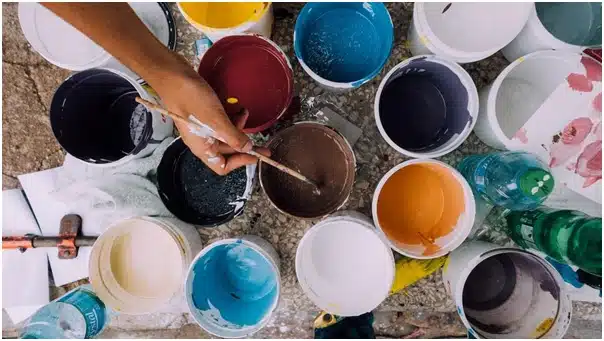 Color plays a major role in Bohemian decor. It sets the mood, conveys emotions, and adds depth to your design. While there are no strict rules about the color scheme, typically, these spaces embrace a variety of vibrant, earthy, or jewel tones. Think along the lines of emerald green, terracotta, mustard yellow, or deep indigo. However, if you prefer a more muted or neutral color scheme, fear not. Boho design is all about breaking rules and embracing your personal taste.
Neutral shades like white, cream, taupe, or grey can also work wonderfully as a base for your kitchen. You can then liven up the space with vibrant splashes of color through accessories, wall art, rug, or upholstery. Patterns and prints are another part of this aesthetic. From tribal motifs and geometric patterns to floral designs and hand-block prints, the sky is the limit here. Your goal should be to mix and match while maintaining a cohesive look.
Lighting and Accessories
The right lighting can make or break your kitchen design. It serves a practical purpose and contributes significantly to the mood and atmospheric tone. For a boho kitchen, you can think of soft, ambient lighting that creates an inviting and cozy atmosphere. Pendants with intricate designs, colorful lampshades, or strategically placed string lights can add a magical touch to the space. Accessories play a major part, offering perfect finishing touches that bring the design together.
Wander through flea markets or thrift stores and choose unique pieces that appeal to you. You can opt for vibrant ceramic dishes, woven baskets, macrame plant hangers, or a gallery wall with your favorite travel photos or art pieces. Plants are another integral part of boho decor. They bring a refreshing pop of green, improve air quality, alleviate stress, and create a pleasant ambiance. Integrate a variety of indoor plants, hanging plants, or herbs in your kitchen. They can be used to fill awkward corners, add height to your design or simply bring a part of the outdoors inside.
Flooring and Wall Finishes
A boho kitchen celebrates the fusion of various design elements, and the same principle applies to the choice of flooring. Exposed brick, patterned tiles, wooden planks, or colored cement can all make a strong statement. If you already have neutral or solid-colored flooring, a vibrant rug can be an excellent way to introduce color and pattern. For walls, you can play around with textures, patterns, or colors. One thing to remember here is that you shouldn't avoid going bold.
If you've always wanted to experiment with colorful wallpapers, ornate stencils, or textured finishes, this is your chance. Whatever you choose should align seamlessly with your color palette, furniture, and accessories. Bohemian style is all about creating a personal haven that reflects your love for travel, your artistic inclinations, and your distinctive taste. It allows you to push boundaries, experiment, and most importantly, to have fun with your decor!
Integrating Functionality With Style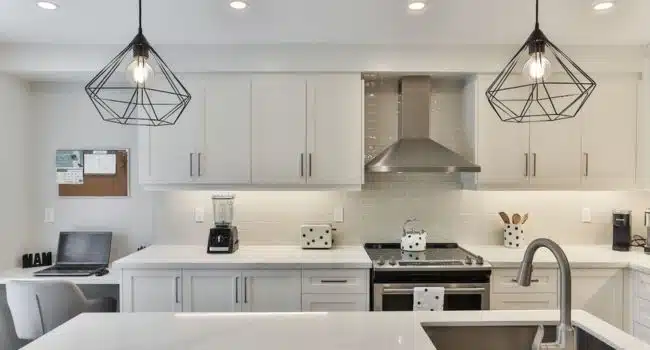 While achieving the right look is an exciting endeavor, it's essential not to compromise on the functionality of your kitchen. Your kitchen needs to cater to your cooking needs, storage requirements, and overall layout of your home. Ensure there's a strong balance between aesthetics and practicality, making your kitchen a joy to cook in and the center of all gatherings. The key to making your kitchen functional is to have plenty of storage space.
Without proper storage, all your beautiful decor can quickly turn into clutter. Open shelves, hanging pot racks, multi-purpose kitchen islands, and cupboards with artistic finishes can help store all your necessities without breaking away from the charm. Similarly, efficient and modern appliances are equally critical. However, try to ensure these appliances blend seamlessly into the decor. It could be a colorful fridge, a vintage-style oven, or a rustic pot rack. While having the latest amenities is crucial, they should not take center stage in your Boho kitchen.
As you can see, decorating your kitchen with a Bohemian theme should reflect your personality, and the result should be a warm, welcoming space full of life, character, and stories. Your only real restrictions are your personal taste and your budget. This investment is worthwhile and can boost your quality of life for years to come. Your kitchen is an extension of who you are—not just a space to prepare meals. Make it personal, make it unique, make it chic!
Read More on KulFiy
21 Kitchen Design Trends to Try
How an updated kitchen can increase your home's resale value