Though most gay dating platforms are dedicated to young men, it doesn't mean that older people interested in gay relationships or gay senior dating don't have any chance to meet someone special. Modern online dating provides an opportunity to everyone: lots of gay men used to hide their sexual orientation in the past, and now they dream of finding a great partner for relationships and romance. Everyone deserves to be happy and to love who they want to love, so gay senior dating services help two lonely souls meet.
It's hard to find a platform dedicated to only gay senior dating because there aren't that many single older guys to require lots of platforms. Usually, you can enjoy high-quality gay senior dating experiences on services made for older people that are LBGTQ+ friendly or at regular dating websites that allow users to range their potential partners by age, sex, orientation, and so on. It's recommended to pick popular services made for both straight and gay people because they are safe and popular, so your chances to meet love become much higher.
There are some of the most popular platforms that can give you an amazing gay senior dating experience:
Silver singles is a service made for men and women over 50 who want to find true love. The service is friendly to gay people, so you can be yourself and find someone special and understanding. Create an account and get closer to your romantic adventures;
Adam4Adam is one of the most famous gay dating services: for most people, it's a pioneer website with lots of trust, reputation, and experience, so you can definitely try it. Though the service isn't dedicated to seniors, it's a gay platform that is open to all ages, so everyone can give it a chance;
OkCupid is another extremely popular website that can help you to meet love: it's a service with a huge audience including lots of LGBTQ+ singles, so you can always receive high-quality service there. Though the service is neither exclusively for gays nor seniors, it has lots of functions and categories, so you can easily find a place for your profile. The website is full of young and middle-aged gay singles but you can also find gay seniors looking for relationships and love too: the service is convenient for people interested in communication, so learn more about your potential partner;
PlanetRomeo is another platform that has a great reputation and lots of experience that can guarantee its security and effectiveness. It's one of the oldest online gay communities, so it has already helped lots of gay men to meet love and bring romance to their lives;
Match.com is a service for everyone: gay or straight, young or old – every person can be true and safe there. You can tell the service about yourself and your preferences and find someone who suits you perfectly – just be ready to wait long enough to let your perfect partner find you.
As you may see, almost every senior gay dating app has good and bad sides and every person has to decide what they choose for themselves according to their preferences and interests. The only thing that is important for everyone is to pick a reliable and functional platform that has lots of active users and provides many opportunities to sort and range potential partners because it allows everyone to find the best suitable gay singles for gay senior dating and relationships. For most users, it's better to use a platform that has both the desktop version and mobile version because it allows them to use it more conveniently, and that's why lots of people prefer to use Dating.com. This service has thousands of active users ready for gay dating and relationships, so it allows everyone to find what they need online!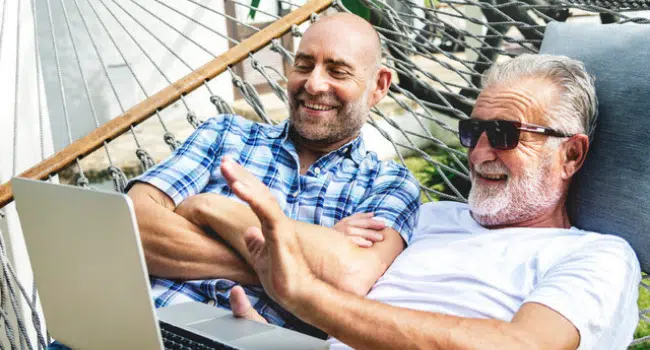 There is advice from Dating.com that can make your gay senior dating experience better:
To make sure your dating experience will be great, don't agree to meet your potential partner in real life too quickly. Trolls, scammers and inadequate people don't want to spend too much time on their victims, so you can be sure that a person you're talking to for at least a few days is an actual gay user looking for relationships and love. Interested and dedicated people are willing to spend more time talking and discussing interests, preferences, and goals, so it allows you to learn more about your potential date and figure out whether you actually want to meet this person in real life or not;
Don't pay too much attention to profile pics: sometimes a person looks nothing like their avatar in real life. It's pretty popular to use pics of muscles or random things on dating services without even showing faces and it's not what a person interested in relationships wants. Pay more attention to users with actual photos instead where you can clearly see the face of your potential partner. It doesn't mean that a scammer can't use another person's selfie as their profile picture but it minimizes your risks a lot;
No compromise. If you're a person who doesn't like alcohol and prefer to spend evenings while watching Netflix at home, don't agree on dating people who love partying all night long just because they have an attractive appearance. At least, use this advice while looking for long-term relationships: you can't change another person and it would be pretty hard for you to change your habits and interests to suit your partner too. At the same time, don't be too picky because some features aren't that important: even if you usually have crushes on blue-eyed and tall men, you still can give a chance to a brown-eyed medium-height man because his personality may amaze you and make fall in love;
If you're into serious long-term relationships, then don't expect users interested in one-night stands to change their goals and preferences after they know you better. Sometimes we hope that a night of love can help a person to see your character and fall in love with your personality but it doesn't happen too often. Some people just aren't ready for long-term relationships and avoid everything like serious relationships even at older ages, so admit it and keep looking for someone with who you can build your future. Vice versa, you shouldn't give hope to single gay men interested in finding love when you're just into one-night stands: lots of gay men feel very disappointed and sad because you can't find long-term partners, so don't make it even harder for them;
You don't have to choose among gay people living around because gay dating sites for seniors allow you to date people from other countries as well! If you want to meet a French man of your life or you have plans to move to Germany or any other country in the future, then you can find a foreigner who's ready to find love. Having a foreign lover can help you to move more easily and to turn your travelling into a romantic experience with a person you like!
Read more on KulFiy
Pointers on How to Fascinate an Attractive Ukrainian Woman
The Truth About Online Dating: Insights for Love Birds and Singles
Impress Your Partner With These 5 Romantic Date Ideas at the Beach