Bridal Wedding Lehenga
Loving nature is not only the necessity but also the right way of living. We are blessed to be surrounded by tropical vegetation of India. Greenery not only soothes our eye but it also leaves a sense of involvement and existence to every soul. The Indian fashion industry has always appreciated the natural fabric and has tried to sew the contemporary design while making use of all those beautiful aids showered on us by mother nature.
The latest pieces of Go Green Lehengas are made with the threads of nature like cotton, chiffon, or silk and so it is very soothing on your skin and will take your comfort to the next level.
This year with Vasansi shop the amazing, glittering, glamourous green Lehengas with us. The Wedding Season is on the way this winter, and with great pleasure Vasansi, Jaipur invites you to check out the latest Green Bridal Wedding Lehenga in their store.
The Latest embroidered and intricate collection of Lehengas at Vasansi will leave with filled with joy and sparkle in the eyes. This wedding season they bring the Go Green trend as it is a hot fuss in the market and they want to celebrate nature through their clothes, colour, styles and cuts.
Indian trends and Indian Lehengas are always demanded in the whole world and our Go Green trend is just as demanded as anything right now. We are getting orders from all the corners of the world as women love to wear Indian ethnic wear.
Pista Green Cut Dana Drape Lehenga Set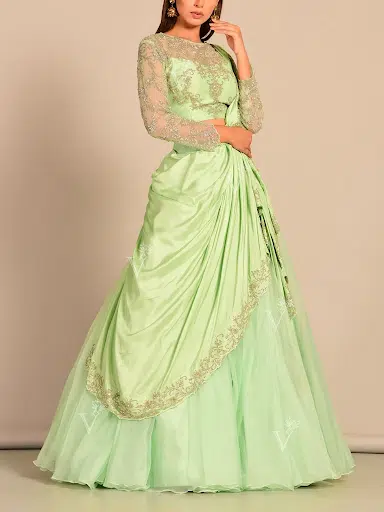 Light-weight Party-Wear Bridal Wedding Lehenga Set by Vasansi Jaipur!
Super comfy and lightweight Pista Green lehenga of Dana Drape Cut design purposely made for the hot summer.
A cool green color bridal lehenga is the perfect piece of cloth for a lady to look a patola on her Wedding Day.
The dark embroidery around the ends of the lehenga, the netted sleeves, and the touch of the Pista green on the lehenga give the lady an extra charm.
The Pista Green color of the lehenga denotes the 'Nature'. It shines the lady with piousness and a natural tone of life.
You can get this beautiful Pista Green at ₹32,500 lehengas to your doorstep just by clicking the link in Introduction!
Multi-Color Printed Silk Lehenga Set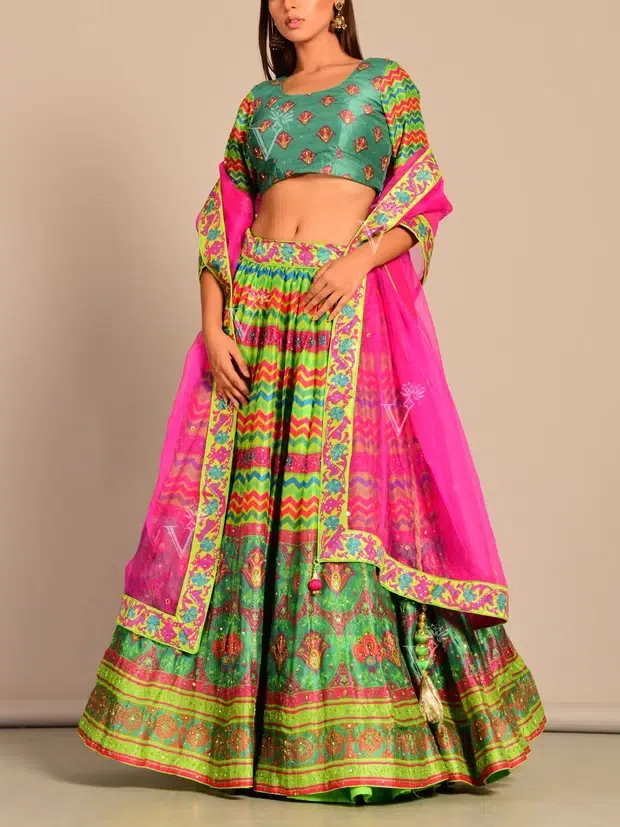 Especially designed multi-color lehenga set to match your desired look!
This multi-colored lehenga set is the only thing you need to give the dramatic dazzling look in front of your dear ones.
This multi-colored lehenga set serves as the perfect attire for the wedding day and even the family gatherings as it is so attractive to the eyes.
This set is a package. The green top of the lehenga, the multi-colored embroidered lehenga skirt, and the pink dupatta will definitely give you all that you need.
The multi-colored lehenga set by Vasansi will represent all the colors of liveliness and life of the lady.
You can get this beautiful Multi-colored beautiful lehenga, only at the price of ₹28,500 just by clicking the link in Introduction!
Bottle Green Crop Lehenga Set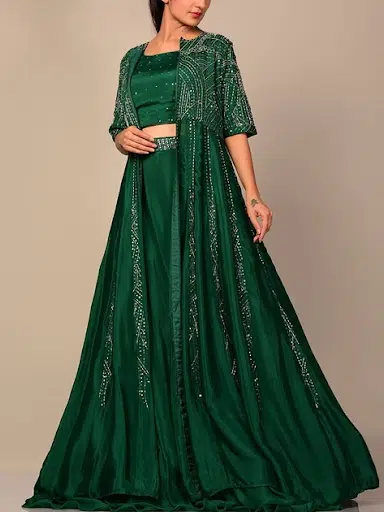 Elegant Dark-Green Bridal Wedding Lehenga Set by Vasansi Jaipur!
An elegant look for your Reception Party can make you feel Diva and outshine in the evening of your exuberant glorious wedding day!
This pretty Evening Bridal Lehenga is a perfect set to adorn by the gorgeous lady on her D-Day.
Not just the Bride, even her friends can prefer wearing this intricate embroidered Bottle Green Crop Jacket Lehenga Set in this year!
Adorn Go-Green theme and flaunt in the pious color of nature which depicts freshness and extra-ordinary luster.
Easy-to carries for girls who are slim but it will come out to be the best for girls who are plus-size and conscious about their looks on their very special day.
You can buy this skin-friendly fabric Bridal Collection at just ₹14,500 and enjoying your luxurious party with your friends.
Lusty Green Cut Dana Drape Lehenga Set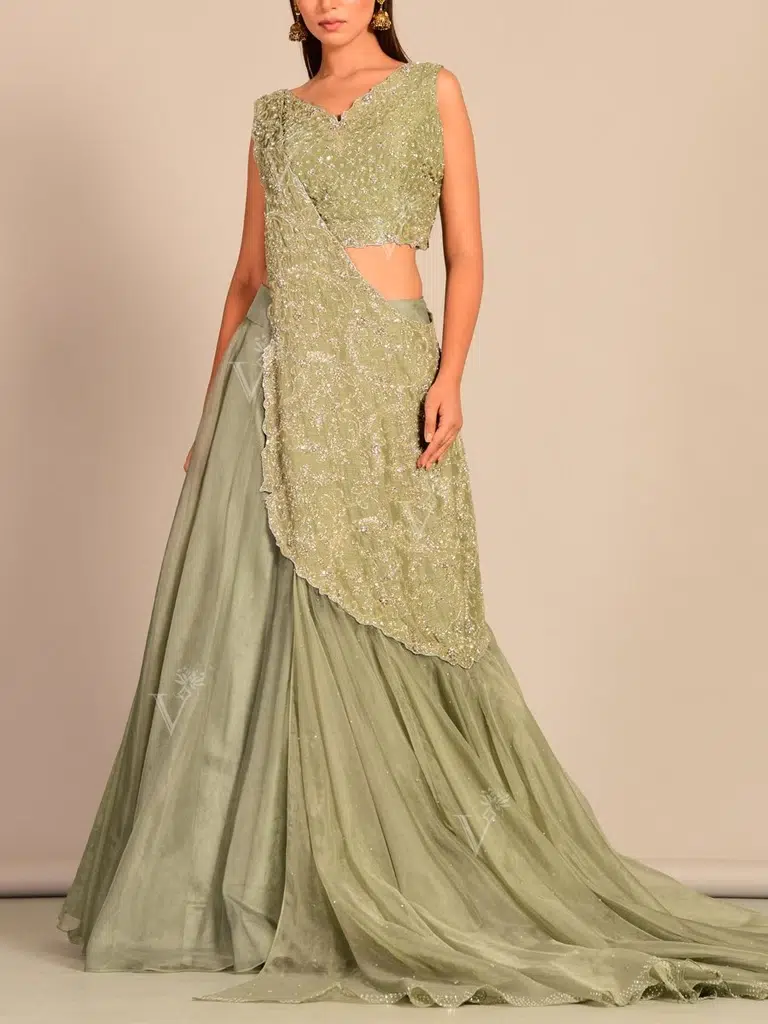 Modish Distinguished Lusty Green Cut Dana Drape Lehenga from Vasansi Jaipur!
Lust Green color is always the first choice of any girl to wear in a modern-day party. The most elegant look is being created by Vasansi Jaipur.
Specially designed for Slim Girls to accentuate their curves nicely. This dignified piece of Vasansi is best suited to Indian ethnic wear in the summertime party.
As this season theme is green, you can try this elegant lusty green color to outshine the party. Not only just brides, but her friends can also flaunt in this fashionable debonair Brida wedding lehenga.
Team up with a diamond accessory to give a statement to this exquisite wedding dress. Buy this graceful Indian wedding dress at just ₹37,500/- and feel the vibe of pretty you!
Green-Blue Printed Silk Lehenga Set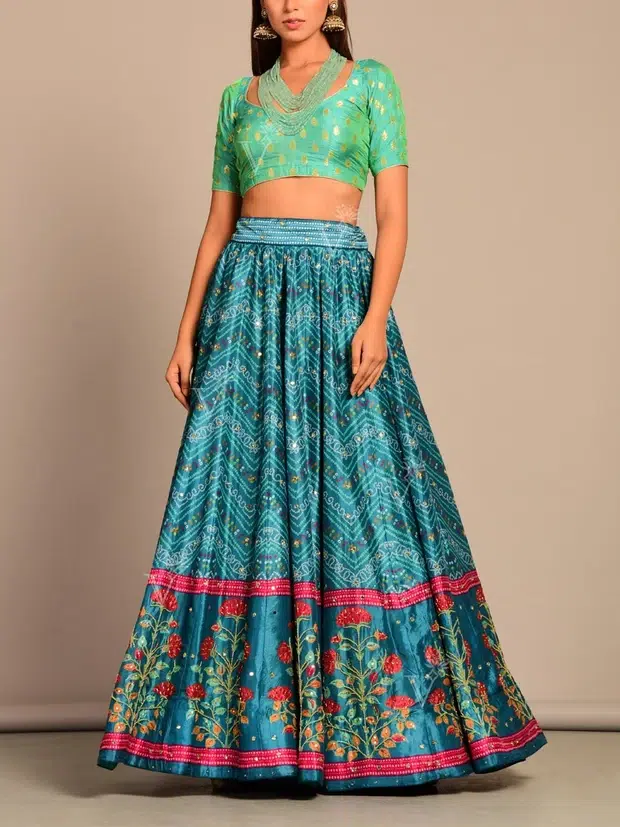 Classic Urbane Green-Blue Printed Silk Lehenga Set by Vasansi Jaipur!
Redefine fashion by flaunting in this Urbane Blue Printed Lehenga Set. All latest fashion available in the artistically designed store!
Specially created by known fashion designer of Jaipur to give this cultured charming look to the bride on her very special day of the wedding.
Bride wearing this plush Classic Urbane Green Printed Silk Lehenga is a perfect piece to b worn in the summer season to give an impression of freshness and peace.
Vasansi Jaipur is a classy store to offer well-cultured Indian Wedding Dresses to depicts the Indian high-class fashion by such exquisite designer bridal wedding lehengas!
You can buy this luxurious bridal lehenga online at just ₹26,500/- to adorn yourself in an aesthetic bridal look!
Green Organza Lehenga with Long Jacket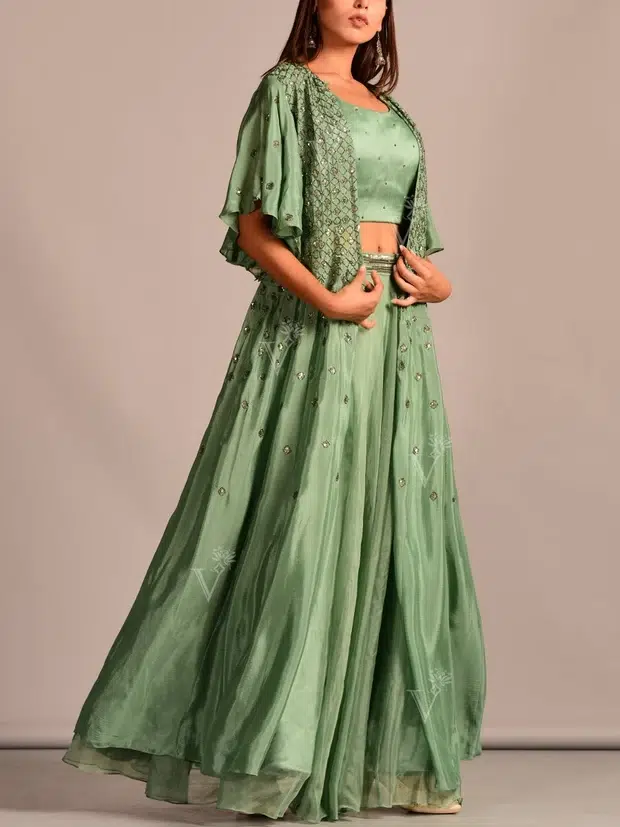 Perfect sizzling look to steal the spotlight specially designed by Vasansi Jaipur!
The green organza lehenga serves as an all-purpose lehenga to steal the spotlight under any roof or even under the sun.
The green organza lehenga is a very fine design made for the ladies. As you drape the green organza lehenga, everyone will want to get themselves clicked with you.
The green organza is a superb blend of the fabrics, it is completely toned in Green and the jacket enclosing you will surely give you the desired look.
This one hell of a designer lehenga can be brought home at the price of ₹14,850, order it just by clicking the link in Introduction!
Mint Green Lehenga with Peplum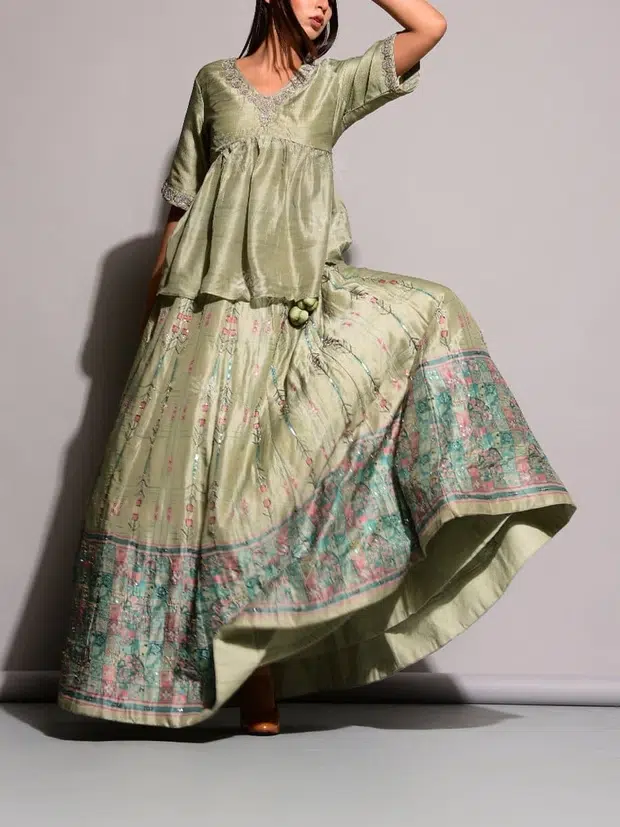 Stylish western party wears Bridal wedding lehenga from Vasansi Jaipur!
Wear this elegant piece of English green color in your wedding functions to flaunt like a Diva.
A perfect organic fabric to carry during the winters and summers. Easy-to-carry mint green with peplum gives grace to your exquisite wedding look!
Girls with plus sizes can carry this modish Indian wedding dress to accentuate every curve elegantly.
Pair up with Urbane jewelry to enhance the opulent look of the day to polish the charm in this dignified outfit by Vasansi Jaipur.
Buy this sober classy Indian wedding dresses online at just ₹16,500/- to outshine your grand occasion.
Conclusion
Vasansi Online Store is a one-stop-shop for all your wedding needs. The best way to create your wedding shopping diaries without even stepping out of your home! With Vasansi Jaipur you can experience as being in the physical store to shop with your family & friends. They also arrange a virtual tour of the store on your demand.
For more details either you can contact on WhatsApp or book a video appointment to meet all your desired wedding dresses. Shop now your favorite Indian Wedding dresses with Vasansi Jaipur.
Also Read: