When not taken seriously, dehydration can be quite threatening. The reason is that our body relies on water to perform basic functions. Dehydration takes place when our body loses more fluid than it consumes. It could be through sweating, tears, vomiting, diarrhea, or urine, etc., The reasons for dehydration could be countless, but the solutions don't need to be.
Oral rehydration plays a major role in beating dehydration. When mixed with electrolytes, water is supercharged to beat dehydration. Electrolytes are basically minerals such as sodium, potassium, and magnesium. These particular minerals are present in blood, tissue, and other various bodily fluids, which are dominant features for blood pressure regulation, muscle function, nerve function, and hydration.
With Fast&Up reload electrolyte, you can beat dehydration and heat with ease and efficiency and also restore your lost energy. It contains the correct balance of potassium, sodium, magnesium, calcium, chlorides+ vitamins, making it the best electrolyte drink.
Reasons to use Fast&Up reload electrolyte to beat the heat:
1. Effervescent technology
The effervescent technology makes it an ideal source for making hydration drinks, as it immediately dissolves in water. Not only do these tablets dissolve in water in no time, but they also have higher nutrient bioavailability. In taking, this hydration drink is not time-consuming and is also quite easy to prepare.
2. Unique blend of nutrients for perfect balance
This electrolyte drink contains a unique blend of electrolytes, vitamins, antioxidants, minerals, and carbohydrates, which makes it a perfectly balanced and best electrolyte drink to beat dehydration. It not only helps with body fluid balance but also provides the fluids which might be lost due to sweat or any other dehydration symptom.
3. Helps with fatigue and muscle soreness
Electrolytes rehydrates and provides the fluids that might be lost due to sweat and exhaustion or on a sunny day. It relieves muscle soreness, muscle exhaustion and maintains electrolyte levels in the body. The calcium, vitamin d3 and vitamin C assist in reducing muscle soreness and muscle fatigue, making these electrolyte tablets for runners an ideal source of assistance.
4. Quality Assurance
The informed choice certificate is a globally acknowledged quality assurance program that not only certifies the finished product but, along with that, it certifies the supply chain, composite raw materials, and that the manufacturing plant is safe, clean and of high quality to ensure that the products do not contain ingredients that are prohibited the sports by the world anti-doping agency (WADA).
5. An Abundance of flavors
The availability of flavors in this electrolyte drink are ten times more plentiful. It has 10 different flavors, such as cola, peach ice tea, aam panna, blueberry, fizzy apples, forest fruits, lime & lemon, orange, mango, and orange. This not only makes the reload healthy and beneficial for the body, but this hydration drink serves as a treat to your taste buds with the variety of these flavors available. So if you are inclined towards taking electrolytes but held back due to the taste factor, with this range you really have no other excuse to not hydrate your body.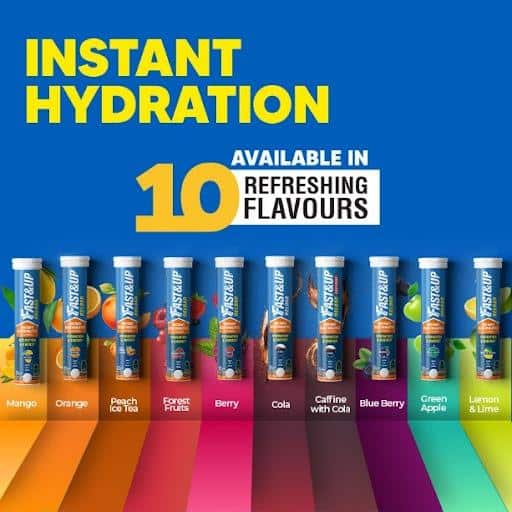 6. Hypotonic Hydration
The hypotonic hydration drink carries particles that are less concentrated than body fluid, which makes it fairly easy for the drink to be rapidly absorbed by the body. This escalates the hydration process. This hydration drink contains the perfect blend for perfect balance and hypotonic hydration helps to ensure quick hydration without any mouth dryness and muscle cramps.
7. Great for athletes/runners
A lot of sweat is lost during intense workout sessions, sprints, etc. which leaves the body dehydrated in the process, while exhausting and getting tired quickly as well. Electrolytes can be consumed anytime during the workout, which not only helps in replacing the fluids that are lost, but it also helps to stay hydrated and aids with muscle soreness, maintaining electrolyte balance in the body and muscle fatigue.
8. Low sugar
This reload electrolyte contains 10x less sugar than other hydration and energy drinks in the market, adding another feather on the hat. Which not only helps in staying hydrated but also prevents you from consuming needles and sugar all while adding vital minerals in your diet, making Fast&Up reload electrolyte the best electrolyte drink to help replenish lost fluid during an intense workout or for staying hydrated through-out the day.
9. Easy to use
The effervescent tablet is really very uncomplicated and easy to use. All you have to do is add 1 effervescent tablet to 250 ml of water and wait for it to dissolve completely. After that, the hydration drink is all set to be consumed and rehydrate your body.
This hydration drink can be consumed at any time during the day. It can be used before, after, or even during a workout to replenish lost nutrients and stay hydrated. It can also be consumed while traveling or while doing any rigorous activity, as it is compact to carry and easy to use.
Dehydration is a subject which should not be taken lightly, as it has various different disadvantages. But staying hydrated throughout the day doesn't have to be a complicated road, hence consumption of electrolytes comes in very handy here. Athletic runner or not, we all have hydration levels in our body that must be met for proper functioning of the human body. Body fluids can be lost through sweat, tears, urination etc. Electrolytes not only beats dehydration, but also balances out the body fluid level in the body. This would help to avoid fatigue as well as beat the dehydration symptoms. The effervescent technology and abundance of flavors that we have available today makes it really easy to prepare the electrolyte drinks in no time, or consume it even while being on the go while traveling to beat dehydration throughout the day and be pleasant on our taste buds at the same time.
Subscribe now to not miss out on any other hydration tips! Send this to someone who always forgets to drink their water.
Read more on KulFiy
Expert Tips To Naturally Improve Your Digestive Tract