There's much you can do with a monitor when you're out on vacation. You can finish up on ongoing projects while relaxing, handle urgent ones, or edit photos and videos taken while on vacation. A monitor's screen is larger than a smartphone's and thus will be more significant.
However, it can be tricky to move around with a monitor. The best option would be to invest in a portable computer monitor. You can find an excellent monitor that won't cost you an arm and a leg. This article will explore the eight best portable monitors you can carry on your next vacation.
Let's get into it.
1. Asus ZenScreen MB16AC
This can be one of the best choices if you need a premium-looking portable monitor. There are various reasons to buy it, thanks to its excellent features. This Asus portable monitor is one of the best-looking monitors in the market because of its unique and slim design.
It has a resolution of 1,920 x 1,080, giving you the best view of your work. It also uses a USB-C x 1 to connect and has an IPS panel. The downside of this monitor is its price, which is higher than other similar monitors. But you'll agree that it's worth the price after using it.
2. Asus ROG Strix XG17AHPE
There's no better way to find a great portable monitor than by looking at the features. This monitor packs all the necessary features to make working easier while on vacation. Its 17.3-inch screen has a 1920 x 1080 resolution and a 240Hz refresh rate to ensure it performs well.
This monitor also has a built-in battery that's quick charging and lasts a long time. You can also choose to connect it using a micro-HDMI or USB-C port. In addition, the IPS panel of this monitor will give you the best views from all angles, making work more efficient.
3. LG 4K UHD 27UD88-W
The sleek design of this monitor makes it one of the most appealing portable monitors on the market. It also has excellent features that help deliver the best results, whether you want to use it for gaming or work. One of the best features of this portable monitor is a 4K Ultra HD resolution.
The 27-inch screen guarantees you dazzling picture quality. It has in-plane switching (IPS), giving you excellent viewing angles. Its high dynamic range (HDR) technology gives you the best colors and brightness. You will also enjoy incredible speeds thanks to its 60 Hz refresh rate.
4. ViewSonic VG1655
This portable computer monitor comes with limited color coverage. However, there are great features that make it stand out. One is the built-in stand that makes it easy to tilt for better angles while you work. It features a five-way mini-joystick controller and a great onscreen display.
The screen can get bright enough with an excellent contrast ratio. Also, the unique and slim design makes it stand out from the many portable monitors on the market. You can be sure of getting value for money from it, especially since it is one of the most affordable monitors on our list.
5. AOC I1601P 15.6-inch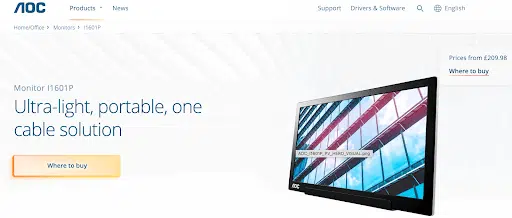 This extremely light and portable monitor will wow you with its excellent features. It has a lovely display that will deliver the best value even when out of the office. You won't go wrong with the 1,920 x 1,080 screen resolution this 15.6-inch portable monitor has.
It supports USB-C or USB-A connectivity which makes it an easy-to-use computer monitor. This computer monitor covers you if you want something extremely slim and light. It is highly portable and comes with a stand that makes it easy to tilt for better views.
6. Dell C1422H
If you are working on a budget, you won't go wrong with this portable monitor. It is a perfect mid-range choice that you should equip yourself with to simplify hybrid working. The 14-inch 1080p display that this monitor comes with will give you vibrant visuals that you'll love.
Besides, it has a 300-nit peak brightness that makes the display crisper. You can also count on its anti-glare finish to protect your eyes, especially if you spend a lot of time watching it. A built-in stand that tilts from 10 degrees to 90 degrees is there to provide you with more comfort.
7. Dell UltraSharp U2718Q
This computer monitor's price tag might seem steep. However, it comes with features that make it worth every penny. Its 4K resolution is one feature that makes it perform exceptionally well. You will also love the clear visuals it provides with its pixel density of 163ppi.
Visuals from this portable monitor can be pretty detailed and accurate. This makes it worth buying if you want a high-quality portable monitor. Another excellent feature of this Dell monitor is the USB-C connectivity that helps with data transfer and device charging.
8. Lepow C2S
This portable monitor might not be as slim as the ones we discussed. However, it is worth picking for various reasons. One is that it has a full complement of ports, making it easy to connect with other devices. It also features a fold-out metal stand that can tilt.
The above-par color coverage makes the Lepow C2S stand out the most. It might not offer the brightest displays, but you won't complain about its visuals. It is also reasonably priced, so you can be sure of getting the best value from it.
Conclusion
This article has all the information you need to choose the right portable monitor for your needs. It has looked at the top 8 portable monitors that will help you remain productive while on vacation. You can now avoid working with your smartphone or tablet's small screen.
All these monitors have everything you're looking for in a portable monitor. You won't go wrong with any of them because they are easy to set up. The only choice you'll need to make when choosing the best portable monitor from our list is the screen size and resolution you want.
Image Source: Pixabay