Mobile phones have altered the way we go about our daily lives. Smartphones have made it much easier to complete tasks, attend meetings and even manage our businesses. Technology and innovation have allowed companies to conduct business in a wide variety of ways.
The mobile app market is growing exponentially, and it's never been more critical for businesses to have useful apps to help them. But how do you know which development platform is best for your business? In this guide, we'll walk through all the steps in choosing the right software for your company.
Android or iOS: Choosing the Best Software for Your Business
Before you choose a mobile platform for your business, you must first understand your target audience. It will help determine which platform has the most potential for growth in that area.
The most popular platforms are Android and iOS. Choosing a platform based on where your product will be used is essential, not just where most people use technology or have access to it. Businesses must stay up-to-date on the latest iOS and Android news to make informed decisions about their mobile strategies.
The upcoming update to the Android operating system could potentially change the landscape of the platform. So, organizations have to be ready for this. With the correct information, companies can ensure that they are making the best decisions for their mobile needs.
1. Consider the Cost
A significant factor to consider is the cost of apps. You need to compare the price of an app to its features. If you're looking for something that's easy to use and doesn't require much technical knowledge, some businesses opt for cheaper options because they are concerned about budget constraints.
Compared to iOS, Android is an open platform. It means that developers must work with Apple's SDK (software development kit) to create apps for their mobile devices. The closed nature of iOS means fewer third-party apps are available than on Android.
It makes it more difficult for consumers who want variety in the apps they can use on their devices. In addition to this disadvantage, developing an app for iOS can be more expensive because Apple charges developers more money for its SDK.
Developing for Android is generally less expensive than developing for iOS since there are fewer restrictions and less need for specialized skills. However, iOS devices tend to generate more revenue per user. So, if your goal is to create as much revenue as possible, iOS might be the better option.
2. Find Out What Types of Apps You Need
If you're looking for a business-to-business (B2B) sales software solution, then the platform and development process will be different than if it's your own small business. All you need is an app that helps customers find and book appointments at your physical location or online via email or social media.
This step is also important because some apps aren't available on both platforms. So before choosing one over another, ensure they work on Android and iOS devices.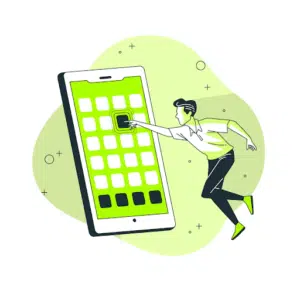 3. Market Reach Potential
There is no doubt that the app market is growing at a rapid pace. With new app releases and updates happening all the time, it can be challenging to keep up with the latest trends. However, when it comes to planning for the future of your business, it is crucial to consider which platform will best suit your needs.
Regarding Android or iOS for your business, there are a few things to consider. First, Android is a more affordable option for businesses, as the hardware and software costs are lower. Also, Android has a larger global market share. So, it may be a good option if you plan to expand your business internationally.
However, iOS still dominates the US market, so it may be a better option if your target market is primarily in the US. iOS users are generally more affluent and have more disposable income, so if your target market is people with high spending power, iOS is a better option. Another vital factor to consider is the platform's app store.
Android's app store is much larger and more diverse than iOS's, so you'll have a better chance of noticing your app on Android. However, the quality of apps on iOS is generally higher, so if you want to be seen as a premium app, iOS is the better option.
Ultimately, deciding which platform to choose for your business will come down to several factors. Consider your budget, your target market, and your future expansion plans when making your decision.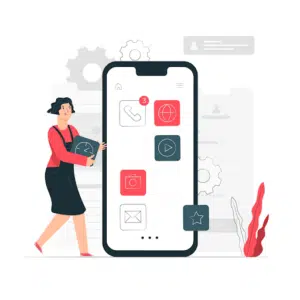 4. Security
There is no simple answer regarding the security of android or iOS for business. Both platforms have their security features and have been subject to security breaches. However, regarding overall security, iOS may have the edge.
iOS is a closed platform, which means that Apple has more control over what goes on with the operating system. This can be a good thing regarding security, as Apple can quickly patch any discovered vulnerabilities. On the other hand, android is an open platform, which means anyone can develop it. This can lead to security vulnerabilities being more easily exploited.
Both android and iOS have been the target of malware and other security threats in the past. However, iOS seems to be less vulnerable to these threats. This is likely because iOS is a closed platform, and Apple can quickly patch any security vulnerabilities. Ultimately, it is up to the individual business to decide which platform is more secure for their needs.
Productive.io is a versatile platform that empowers businesses of all sizes to streamline their project management and boost overall productivity. With its user-friendly interface and robust features, they offer a comprehensive solution for teams to efficiently manage tasks, track time, and collaborate seamlessly.
Final Thoughts
There are a few things to consider when deciding whether to develop for Android or iOS. The first is your target market. If you're targeting a global audience, android is the way to go since it has the largest market share. However, if you're targeting a more affluent market, iOS might be a better choice since it tends to be associated with higher-end devices.
Another thing to consider is the development process itself. Android is generally considered more open and flexible, while iOS is more streamlined and user-friendly. So, if you're looking for a platform that will be easier to develop, iOS might be the way to go.
Finally, you'll need to think about your budget. Developing for android can be cheaper since there are no licensing fees, but you'll need to account for the fact that there are more android devices on the market, so you'll need to develop a broader range of devices.
Eventually, the best position for your company will vary according to individual objectives and aspirations. But by taking the time to consider all the factors involved, you'll be able to make the best decision for your business.
Read more on KulFiy
5 Best System Maintenance Software
What Are Some Things You Should Look for In A Data Recovery Software?