The cleaning industry is booming, boasting an annual revenue of over $46 billion. Additionally, the industry is forecasted to grow at an annual rate of 6% through 2026. Thanks to the immense benefits and opportunities for growth it offers, the cleaning industry is one of the top small business industries.
One of its most significant advantages is the highly fragmented market, reliable demand, low overhead, and high earning potential. Ready to get started? In this simple guide, we outline the essential steps to building a cleaning business from scratch.
Identify the Target Market
The first step to building a solid cleaning business is identifying your target market. You should then decide whether you'll offer residential or commercial cleaning services. The former focuses on homes and residential places, and the latter serve large businesses and high-rise buildings.
Location will play a significant role in choosing your niche. Map out the area you're going to serve. If your business is located in a residential area, it makes sense to offer household cleaning. In contrast, you should focus on commercial services if your serving area is in a residential neighborhood.
Define the Services You'll Provide
After choosing your niche, you can further define the type of cleaning business you'll want to set up by rounding up the services you want to offer. Competitor research is a fundamental part at this point. Consider what services other cleaning businesses in your area offer and if there are some services that aren't provided.
Then, decide whether you'll be offering outdoor and pool cleaning, window cleaning, commercial kitchen cleaning, gutter cleaning, laundry, dry cleaning services, or something else. You can combine the services according to the demand. If you're using a cleaning proposal template, offer the services that might be appealing to the particular client. The best template is fully customizable, so you can easily opt out of a service or include a new one.
Plan the Budget
Supplies and transportation costs are the two significant expenses of cleaning services. However, particular expenditures will vary depending on the services you offer and the type of company you're running. When planning the budget, think about what supplies you'll need. Generally, this will be determined by the services you offer and how many clients you have.
Moreover, if transportation falls on you, consider the most cost-efficient options. Finally, you might need to rent special machines and cleaning agents for exteriors, carpets, or flooring. These prices can quickly add up, so evaluate the pros and cons of buying such equipment and whether they'll be worth the investment.
Get Licensed
License and permit requirements vary depending on your state and local legislation, so make sure to inform yourself promptly. Two popular options for cleaning business licensing are LLC and sole proprietorship. An LLC reduces your liability as an individual as it enables you to keep your personal and business finances separate.
On the other hand, a sole proprietorship is generally cheaper to establish and gives you total control over your business. However, your assets will be on the line if your business isn't profitable. In addition, when choosing a brand name, you'll have to file a DBA — a license that establishes your business name and ensures your business operates legitimately.
Get Cleaning Business Insurance
Cleaning business insurance gives you a safety net and protects your business and employees from accidents and potential damage while cleaning clients' property. Without proper coverage, your company will be liable for any accidents, injuries, or damage that happens while you're cleaning.
There are different types of insurance, including general liability insurance, health insurance, and employment practices liability. Look around to find the best and most affordable plan for your specific needs.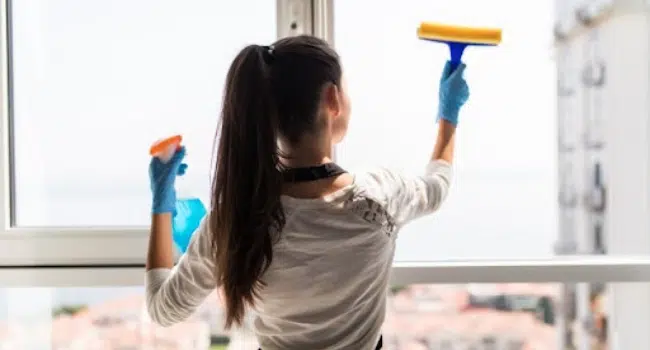 Get Discovered
Once you form your business and cover the legal bases, you should develop a solid marketing strategy. Consider starting by handing flyers, brochures, and business cards to get the word out there. Additionally, build a social media presence to market your cleaning business, establish credibility, and maintain accessibility for your customers.
However, keep in mind that the best strategies are word-of-mouth and referrals in this line of work. Invest in providing high-quality services from the beginning to gather a loyal audience and good feedback.
In Conclusion
Starting a cleaning business is one of the simpler business types you can build and run. It's easy to start, has low operational costs, and has high revenue potential. Additionally, you get to be your boss, set your standards and do work that makes a real difference for your community. Like any business, getting started might be frightening. So, follow this guide, and you'll be sure to get everything right.
Read more on KulFiy
Why Should You Hire a Professional Home Cleaning Service?
Car Wash Copenhagen – Tips For Cleaning Your Car's Interior