Do you ever feel weighed down by your full-size golf bag, 14 golf clubs, and all of your golf gear? You just want to hit some range balls, play a par 3 course, or walk a quick 9. Sometimes in golf, less is more. There has to be a better way!
The answer is a Sunday golf bag. A lightweight golf bag designed to carry fewer clubs and make it easier to play golf.
Simplify your next golf experience. Bring a few clubs, your golf essentials (balls, tees, gloves, etc.), and enjoy your afternoon. More and more golfers are starting to see the benefits of using a Sunday golf bag.
Give it a try – you might never convert back to that heavy full-size golf bag!
What To Look For In A Sunday Golf Bag
Sunday golf bags are all about enjoying the game of golf and having fun with your friends. You'll find plenty of options in the golf marketplace. Pay close attention to these details.
Weight
The idea of a Sunday golf bag is to keep things light. Pay close attention to the weight of the bag before purchasing. There's no point in joining the Sunday golf bag revolution if you're still carrying around extra weight.
Storage
You don't need much, but you need enough room to store some golf balls, tees, and a glove. You may also want a way to attach a golf towel and/or a rangefinder. Sunday golf bags aren't meant to carry 14 clubs, but they do come in different sizes. Pay attention to how many golf clubs they can carry.
Stand
Pretty simple. We like our Sunday golf bags to have stands. Keep your clubs off the ground and out of the dirt/moisture.
Style
Just because you're a casual golfer doesn't mean you don't want to look good. Find a Sunday golf bag that matches your style. Look good, play good!
Bonus Features
Not all Sunday golf bags are the same. What features would add to your experience? A frosty pocket to keep your favorite beverage cold? A small pocket on the side for your pullover? Look for features that get you excited about the game.
Top Sunday Golf Bags In 2022
Sounds good, right? Are you ready to find the perfect Sunday golf bag for you? We can help. Below we highlight our favorites!
1. Loma Bag By Sunday Golf
The LOMA bag by Sunday Golf is a great example of a Sunday golf bag done right! It weighs less than 2 pounds (1.8) and can hold 5-7 golf clubs. The Loma has 3 different pockets for storage and a "frosty" pouch to keep your drink cold. Easy to carry with a shoulder strap or the handle, this bag makes walking the course easy. The duraflex stand will keep your clubs high off the ground regardless of the terrain.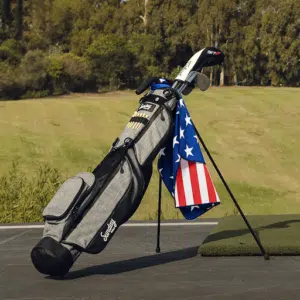 Pros:
Amazing amount of storage for a bag that weighs less than 2 pounds
We love the velour-lined valuables pouch and the "frosty" pocket
A very sturdy stand for a Sunday golf bag – best on the market
Simply looks great – 12 different colors to choose from
Cons:
Not the cheapest bag on our list – middle-of-the-road price compared to others
Can't hold more than 7 clubs, but that is sort of the point of a Sunday golf bag
2. Orlimar Pitch & Putt Bag
The Orlimar Pitch 'N Putt is an economical Sunday golf bag option. It weighs less than 2 pounds (1.95) and can carry 3-4 golf clubs. You have one pocket to store your golf essentials and you can carry it by a strap or by the handle. Do you like choices? You can get this Sunday golf bag in 17 different colors. The Pitch 'N Putt does have a stand that makes it easy to access your clubs.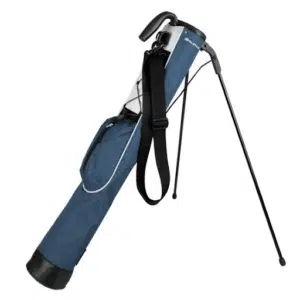 Pros:
Great price – lowest cost bag on our list
The different color options are nice – if you have a favorite color, Orlimar probably offers it
Lightweight – less than 2 pounds is definitely easy to carry
Cons:
Very limited storage – with only one pocket you won't be able to bring many golf balls
Even by Sunday golf bag standards, the Pitch 'N Putt can only carry a few clubs
3. Premium Carry Bag by Titleist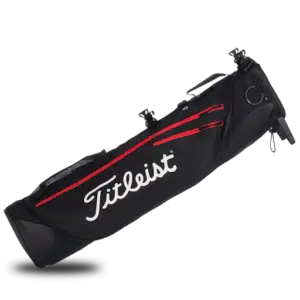 The next Sunday golf bag on our list is the Premium Carry Bag by Titleist. It weighs 2.2 pounds and has a double shoulder strap that makes it easy to carry around the course or to the driving range. The Premium Carry bag has an external water bottle pocket and a full-length apparel pocket for your gear. Titleist offers this Sunday golf bag in 5 different colors.
Pros:
The double shoulder padded strap is a nice feature
Titleist is a well-known golf brand that has been making high-quality golf products for decades
Cons:
It's a bit expensive – the most pricey Sunday golf bag on our list
It has what Titleist calls "mini-legs", but they only keep your clubs a couple of inches off the ground – not ideal in high grass.
4. Ultralight Sunday Bag by Cobra Golf
The Ultralight Sunday Bag by Cobra Golf stretches the definition of a Sunday golf bag. One could argue that it's almost a full-size bag. The Ultralight weighs 3.8 pounds and has a 3-way divider at the top to help you organize your golf clubs. This Sunday golf bag offers you plenty of storage options (oversized apparel pocket, fleece-lined valuables pocket, mesh beverage pocket, ball pocket). You could squeeze all 14 of your clubs in this bag if you wanted, but it'd be tight.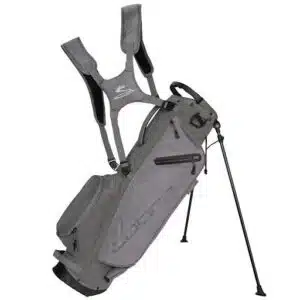 Pros:
High-quality golf bag with a nice stand and an easy-to-carry strap
More storage than other Sunday golf bags on our list
Nice looking golf bag with 3 different color options
Cons:
The Ultralight by Cobra is a bit pricier than other Sunday golf bags we've highlighted
This bag is bulkier and heavier than most Sunday golf bags
5. Caddy Daddy Ranger Sunday Bag
The final Sunday golf bag to make our list is the Ranger by Caddy Daddy. It's a multi-functional golf bag that can be used for the driving range, travel, or to play a quick 9. The Ranger has 3 zippered pockets and a padded top to protect your club heads. It has a single should strap and weighs 3.5 pounds. It'll hold 7-9 golf clubs and is available in two different colors.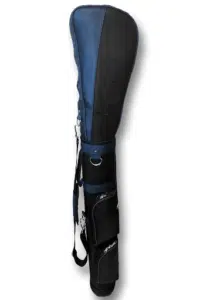 Pros:
Reasonable cost – one of the lowest priced Sunday golf bags on the market
Great little travel bag if you make a lot of weekend trips and want to bring a few clubs
Cons:
Heavy for a bag this small
Best used as a Sunday golf travel bag, but the padded top is inconvenient on the driving range or par 3 course
Give Your Back A Break – Play Golf With A Sunday Bag
Do you really need all 14 golf clubs to enjoy your day at the driving range or on the course? Once you try a Sunday golf bag, you may leave your full-size bag in the garage forever. It's so nice to stroll down the fairway without that heavy golf bag weighing you down.
Make a tee time, call some friends, and enjoy your afternoon on the golf course!
Read more on KulFiy
Forest City Golf Course: A New Challenge for Golf Fans
Dolphin Discovery is the only park with the AZA accreditation in Punta Cana