An excellent approach to improving your home entertainment system is to get high-quality home theatre speakers, but that is just the beginning. There is no denying that home theatre systems have become indispensable to many households, but the mood quickly shifts when the speakers steal the show. This may not be a significant deal if you like showing off your stylish equipment, particularly at family gatherings.
However, you may want to think of innovative methods to conceal speakers without sacrificing sound quality if you can't find a way to make them fit in with your home's decor or if your significant other and family members aren't fans of the notion. Fortunately, there are various methods for hiding or avoiding drawing attention to your speakers when entering a space. Therefore, the following advice will be helpful if you want to make your home theatre speakers less obvious.
The second concept is to install ceiling speakers. This attractive and contemporary solution makes it an excellent choice for a flat roof or open area over a living room. Since the sound will not reverberate off the ceiling as it would with hardwood floors, you can enjoy late-night movie nights with friends or candlelit meals with your significant other without fear of disturbing the neighbours.
It is not hard to pick a bluetooth speaker that goes with the decor since there are many options. If your ceiling has the necessary clearance, you may use a flush mount; otherwise, you can choose a surface mount, which will look great in any area since it rests flat against the ceiling and requires no further attachments.
Install Speakers On The Wall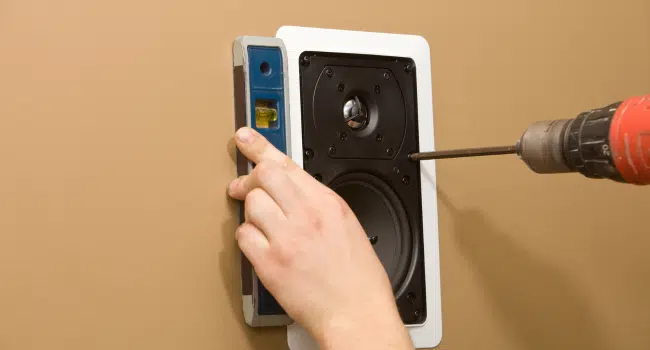 An in-wall installation is the best and most straightforward method of concealing speakers in a living area. Furthermore, in-wall speakers assist in conserving floor space, particularly when putting speakers in tiny living rooms.
The excellent part about in-wall installations is that you may paint the speaker grilles and frames to fit your interior design scheme or to blend in with the wall. In addition to giving your home theatre system a more personalised look, painting the speakers may make them less noticeable.
Make the Most of Your Storage Areas
A cabinet or shelf is another option for concealing bulky speakers in the living area. If your speakers are on the bigger side, pulling off this option convincingly will be more challenging. If you are not short on a room, building one inside a cabinet is the way to go. In this manner, your speaker will blend in perfectly with the rest of the objects on the shelf or within the cabinet, making it almost impossible to see unless the listener searches explicitly for it.
Alternatively, this may also work if there is sufficient space behind armchairs and between shelves/cabinets/walls. You may hide them entirely by burying them behind a mountain of pillows.
Conclusion
The decision to conceal enormous speakers in the living room should not be made lightly. The first need is that the area where the speakers will be buried has enough acoustics and sound isolation. Then, choose if aesthetics or utility will be your primary focus. Pick pieces that go well together or that accent the existing decor.
The necessary measurements and equipment are essential for a successful speaker installation in the living room. After reading this guide, you should be able to conceal huge speakers in your living room.
Read more on KulFiy
Best of Music, Movies and Podcasts In One Place