Poster Maker | Free Online Poster Maker | Free Online Flyers Maker | DesignCap Review
Are you looking for poster maker free of cost, looking for free online poster maker, free online flyers maker? In this post of we have reviewed 3 Best Tools to Create Flyers and Posters online for free.
Online poster maker free
The main purpose of the advertising flyer is to advertise an event, an idea, a product, an offer or a service.
A flyer uses both images and text, to get the advertising message of its creator and can be used for e-mail, print and web distribution through newsletters. It gives you the chance to affect the possibilities of increasing your business in every
moment.
But we obviously do not want to spend anything to create a poster and then we will go to choose only among predefined templates. The templates for flyers are an excellent source of inspiration and can also be used for making flyers that capture people's attention.
 A well-designed poster designed to provide information that convinces the reader to attend an event or to buy a company product or service. To create a flyer, it takes time and specific knowledge of graphic design. Here then good templates can certainly come to help you.
What are the best tools to use? You can find it in this article and know which website inspires you the most by reading the following analysis. The three tools taken into consideration in our article will be described in a simple and concise manner.

3 Best Tools to Create Flyers and Posters
1. Canva
Canva is undoubtedly one of the best software in circulation that allows us to create posters and flyers. To access these, simply register, and then view and act on the templates, customizable through the internal editor.
Once logged in to Canva you will be in the dashboard of your personal profile. Using the bar at the top, you can choose what format and what kind of design you want to create.
After finishing the creation, we will immediately realize its ease of use, so we can say that is a software dedicated to all users. It can be used free of charge after registration, even if it is right to say that some graphics are paid. To use Canva, connect to the web address: www.canva.com.

2. DesignCap
If, on the other hand, you want to use a tool that matches the simplicity to the rapidity, then it is possible to refer to DesignCap: https://www.designcap.com/.It is a free online service which offers different models, to be customized by modifying the graphics and textual elements in the desired way.
In this case, with a few clicks, you can create the desired product, especially thanks to the templates to follow as a basis and to be changed according to your needs. For example, it is easy to intervene in various elements such as the text, the clipart, and the background.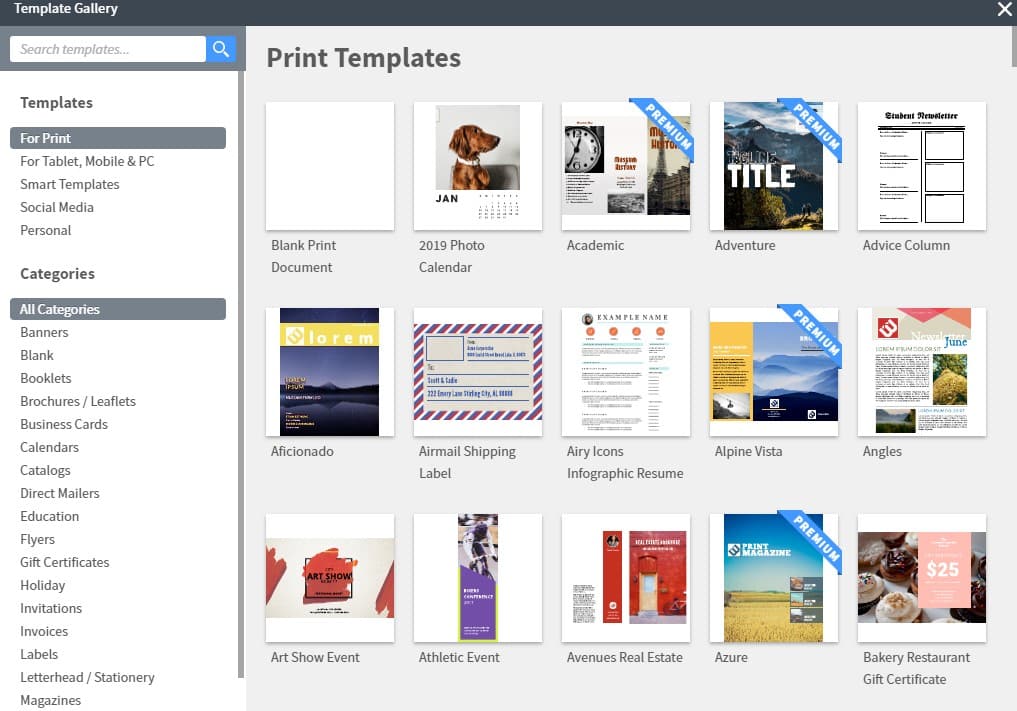 You can do many creative things with this tool such as create missing flyers, design birthday posters, design promotional posters for blogs/articles, and much more. And no download or registration is required.
3. LucidPress
LucidPress is another service for making flyers online in a rather simple way.
https://www.lucidpress.com/
In this case, it is not a free service, but you can still try it for seven days to evaluate the features.
The use is also very simple. There are many models to change according to your needs. To modify each element, just click on it and change the parameters listed in the sidebar located on the right.
As soon as you are satisfied with the result, you can save your flyer by clicking on the Download button located at the top right. Flyers created can then be shared
on Facebook or printed on paper.
I hope you have liked 3 Best Tools to Create Flyers and Posters, and this post will finish your search for poster maker free of cost, free online poster maker, free online flyers maker.
Guest post by DesignCap