Are you planning to pursue a B.Com degree and wondering where it will take you? Don't worry; we are here to cover it all for you. Three years are required for the Bachelor of Commerce (B.Com) undergraduate program. B.Com is one of the most well-liked and sought-after courses for students who want to pursue jobs in the world of commerce.
In India, B.Com and B.Com Honors courses are available for undergraduate study. A B.Com degree holder can access a job in business, finance, accounting, banking, or insurance. Full-time, part-time, and distance learning, along with online B.com options, are all available for the programmes. With the Covid pandemic, online B.Com courses became easy and convenient & gained prominence among students who want to study without any time and budget constraints. It is a three-year course; after three years, you will be well-versed in business communication, finance, business law and more. So, do you want to pursue a job in management, journalism, advertising, law, design and other related courses? Then start preparing for B.Com today!!
Read on to know more!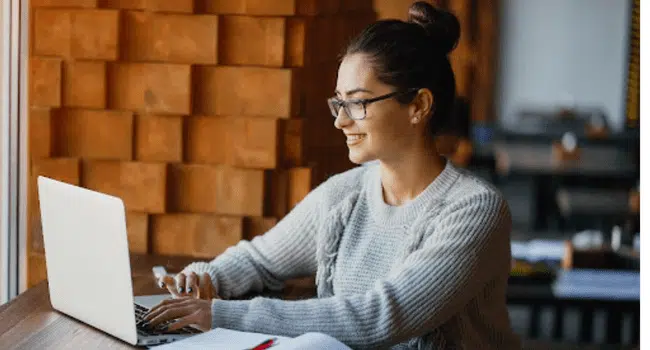 All about online B.Com course
You might wonder why you should do B.Com online out of many available options. To answer this, we will be covering eligibility criteria, the admission process of online B.Com and more. Firstly, let's understand why you should do B.Com online.
You enrol on the course online and can study from anywhere. It makes online courses a good fit for someone who wants to do other things side by side.
The learners will know about a lot of things other than their subjects in the curriculum. For example, they can attend seminars of big personalities from home and various other things.
The students can set their pace for course completion, and there is no pressure on students about anything.
The fees of the online B.Com course are less than offline classes making it easy for every student to afford.
It also helps the students better understand what is happening worldwide and broaden their minds in commerce.
Career options after completing online B.Com degree
It is imperative that you might need clarification about the future career scope of Online B.Com. This section will discuss career options after completing an online B.Com course. If you doubt whether the value of online B.Com is similar to offline, then don't worry. Online B.Com is equivalent to offline courses. You can apply for all the following jobs after completing B.Com online course:
Chartered Accountancy (CA)
Company Secretary (CS)
Chartered Financial Analyst (CFA)
Business Accounting and Taxation (BAT)
Certified Management Accountant (CMA)
Financial Risk Manager (FRM)
Digital Marketing
US Certified Public Accounting (CPA)
Career after online B.Com completion is not limited to the above-stated options. There are a plethora of other opportunities that you can grab after completion of the course.
B.Com online admission
You can follow the given steps to apply B.Com online course to do well in your career:
The online application for B.Com courses is available throughout the year, but there are application deadlines also that you must adhere to.
You must go through the eligibility criteria before applying for admission.
There are some required documents that you must submit online after filling up the form.
There are various payment methods like debit/credit card or Demand Draft (DD) that you can opt for submitting the fees.
After the payment, you can avail of the benefits and start classes anytime.
Online B.com: who can apply?
Two types of students can apply for B.Com courses: India Students and International Students. But the eligibility criteria for both students are different. So, let's check the eligibility criteria for India students:
Indian students' eligibility criteria
10+2 from the recognized board like CBSE, ICSE and other state boards
50% or more in aggregate in 10+2/diploma subject to the category they fall under. If the reserved category, then 45% in 10+2/diploma is the minimum requirement.
10+3 diploma from a recognized institute or board with 50% aggregate marks.
International students' eligibility criteria
10+2 from a recognized board mentioned in the Association of India Universities. 50% aggregate marks in any discipline will work.
Candidates with NRE and PIO status residing outside India and students who are not Indian by ethnicity are considered international students. They are eligible for online B.Com and must submit a CV, address proof, valid visa, PR card & passport.
Online B.Com required skills
Every course, whether it is engineering requires proper research and a set of skills. So, students who are planning to pursue a B.Com career online must have the following mentioned skills:
Financial intelligence to anticipate the risk
Analytical thinking to articulate, visualize and solve complex problems
Relationship management to build good relations with clients
Leadership and technical skills to lead the team in future
Highly organized and a multitasker
Collaborator with exceptional business valuation skills
Well-spoken and have good networking skills
Confident enough to take the lead whenever required
Exceptional research and quantitative skill
Proficiency in MS Word, Excel, and PowerPoint
Online B.Com courses are gaining a lot of spotlights in recent years. So, if you plan to pursue your career in that, check out Online Manipal, where you can find a comprehensive B.Com degrees offered by Manipal University Jaipur. Experienced MUJ faculty will teach the course. Enrol today and get the B.Com degree right away.
Read more on KulFiy
5 Best Educational Tools and Calculators for Students
Best Books for Government Exams & Bank Exams
Tracking the SSC CHSL Exam Results