The usability of two different devices varies from one function to another function. This article will present you with how to transfer contacts from iPhone to Android when they have different functionalities.
Many users make the switch between Android and iPhone, or the other way round due to various reasons. The reason could be that they want to switch their iPhone with the new Samsung Galaxy Z Fold 3 or with any new upcoming models.
The operating system of an Android and an iOS device have major differences that make them different from each other in usability and functionality. When it comes to transferring data between Android and iOS devices, it is not easy in a non-identical ecosystem. Here is how we can use different methods and the Dr.Fone – Phone Transfer feature to transfer from iOS to Android.
Part 1: Transfer Contacts from iPhone to Android Using Google Drive
Among different solutions of how to transfer contacts from iPhone to Android, one of them is using Google Drive. We will further describe some steps for how you can use Google Drive to make a successful contact transfer from your iPhone to an Android device. Syncing your phone contacts to Google Drive will let you do the transfer smoothly. The steps are mentioned below:
Step 1: In your iPhone, first download the Google Drive application and then carefully log in with the Google Account that you are going to use on your Android phone. Now click on the three lines available on the left top corner in the Google Drive interface, and it shows you some options. Simply tap on the "Settings" from those available options.
Step 2: Next, you need to click on the "Backup" option. In a case there is no such option available, that means your data that you can share with Google is restricted by your organization.
Step 3: Then you will see a new page that opens, now select the "Contacts" and make it certain that the slider is toggled on. After that, you will go back and click on the "Start Backup" option. The transfer will take a while depending upon the number of your contacts and if you are transferring any photos or calendar events too.
Step 4: You can now open the same Google Account on your Android phone, and you can see that the complete contacts are transferred successfully.
Part 2: Dr.Fone-Phone Transfer Functionality and Features
Wondershare Dr.Fone presents an amazing feature, that is Phone Transfer, which makes it quite easier to transfer contacts within phones with different functionalities. The Dr.Fone-Phone Transfer feature is much quicker and easy to use compared to other tools that offer contacts transfer from iOS to Android phones. Some other features of Dr.Fone are:
It supports the transfer of SMS, music, contacts, videos, images, and other types too.
It is compatible with the latest iOS 15 version and Android 11.
It supports the data transfer between iOS and iOS, Android and iOS, Android and Android, iOS and Android.
It highly supports all mainstream phone models, including Samsung, iPhone, Moto, LG, Huawei, and etc.
Wondershare Dr.Fone is a complete solution for how to transfer contacts from iPhone to Android. The steps that will guide you to do so are given below:
Step 1: Attach your Device to PC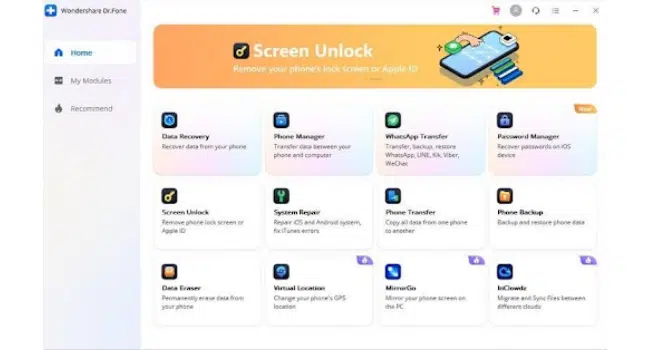 On your computer, open Dr.Fone, and it will present you with various modules. Among those modules, you need to select "Phone Transfer." Now connect both your devices. In our case, it will transfer the data from iOS to an Android phone that is a source device and a destination device, respectively.
Step 2: Select File Type and Initiate Transfer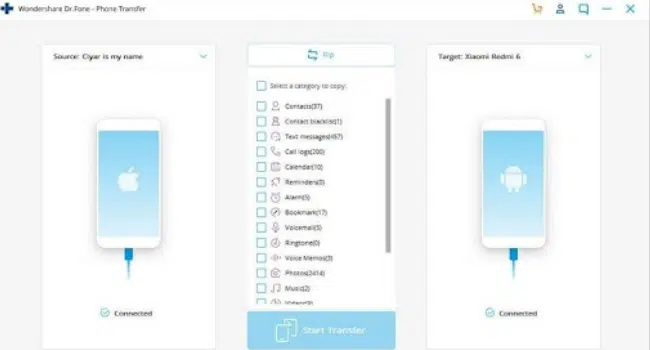 Now choose the file type that you are going to transfer and begin the transfer process by clicking the "Start Transfer" button. Try not to disconnect the devices for better and efficient transfer.
Step 3: Successfully Files Transfer
You can also clear data from the target phone between transferring new data by clicking on the "Clear Data before Copy" button. Then you will see that all selected data is successfully transferred to the target phone within a couple of minutes.
Part 3: Transfer Contacts from iPhone to Android using vCard
A vCard is a standard VCF File that is responsible for holding all the available contact information. VCF Files is one of the perfect methods used to transfer contacts from iPhone to Android as phones with different ecosystems can also read these VCF files. Some steps are given below that will show you how to transfer contacts from iPhone to Android using vCard:
Step 1: In your iPhone, open the "Settings" application and from the top of the screen. Now click on iCloud and make sure that "Contacts" are toggled on in the list of applications.
Step 2: In your Android phone, open the link icloud.com and then sign in to your iCloud account. Now click on the three dots you can view at the top right corner of Chrome. After that, select the "Desktop Site" view.
Step 3: On the new desktop version of iCloud, click on the "Contacts," and from the bottom left corner, tap on the small gear icon. Next, a menu will appear; you need to choose the "Select All" option and then simply export vCard.
Step 4: It will successfully download the .VCF file in the file application of your phone. It might be named "My Files" or "Files by Google," you can then open the file. Now tap on "OK" when it asks you to import the contacts.
The Bottom Line
The above article concludes that different smartphones have different functionalities and possibilities. Thus, whenever you need to transfer contacts from iPhone to Android, you can use one of the above methods to do so. Wondershare Dr.Fone is one of the well-known tools that makes the contacts transfer quicker and easier by using its Phone Transfer feature.
Read more on KulFiy
AndroDumpper for Your Android Smartphone & Computer
Android Phone Slow? Updates | Why your android phone Running Slow?
Easy Accounting Anywhere via free invoice app for iPhone & Android
Why You Should Use a Temporary Phone Number
How Substitute Components Will Slow Down Mobile Phone Development