Are you looking for timeless jewelry that can elevate your style for any occasion? Look no further than round gold pendants. The round gold pendants are often worn on gold chains or necklaces, creating a striking focal point when worn around the neck.
Whether you want to make a fashion statement or express affection, a round gold pendant is perfect. In this article, we will explore the allure of round gold pendants of Mia by Tanishqand why they are suitable for every occasion.
14kt Yellow-White-Rose Friends of Bride Pendant with Oval Design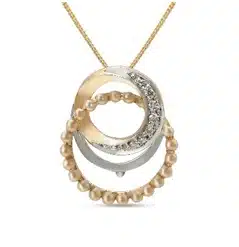 This 14KT round gold pendant from Core Collection features three intertwined oval elements highlighted with seven diamonds of I2 clarity. While the first oval element in yellow gold is embellished with gold beads, the second displays a partially rhodium-plated crescent feature set with diamonds. The third oval element is rhodium-plated too. The amalgamation of yellow, white, and rose gold adds a touch of sophistication and versatility to the pendant, making it a perfect accessory for various occasions. It is a heartfelt and elegant gift that captures the essence of friendship and love.
14kt Yellow Gold Friends of Bride Electron Pendant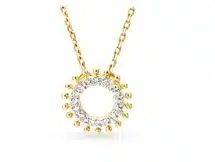 This round gold pendant is a dazzling jewelry representing the celebration of friendship. Crafted from 14kt yellow gold, this pendant from Core Collection displays a captivating design inspired by the sun's radiant rays. The pendant features sixteen diamonds that sparkle and shimmer. The high-polished yellow gold beads add a touch of sophistication and elegance to the pendant. With its exquisite quality and meaningful design, this pendant is a beautiful tribute to friendship, making it a truly cherished and radiant accessory. The pendant comes with a spacious bail at the back. You can pair this pendant with ethnic as well as modern outfits.
Friends Of Bride Yellow Gold Pendant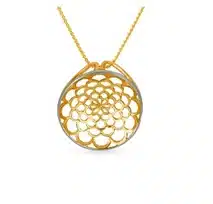 This 14KT yellow round gold pendant from Core Collection features a floral design within a circular outline and negative spaces. The circular shape is partially rhodium plated, strikingly contrasting, and enhancing its visual appeal. A regular flower design is positioned at the center, from which petals emerge, resembling a Dahlia, symbolizing the blooming stage of a relationship. The pendant has two D-shaped bails, allowing it to be easily attached to a chain or necklace. With its intricate details and heartfelt design, this pendant is a timeless jewelry piece.
14kt Yellow Gold Serendipitous Bee Diamond Pendant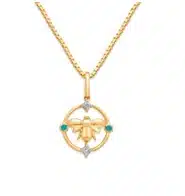 This 14kt round gold pendant belongs to the enchanting Lucky Charm collection, radiating luck and prosperity. This pendant features a bee design, symbolizing luck, and abundance. With dimensions of 21.23mm in length and 13.49mm in width, it is the perfect talisman for those seeking to attract good fortune and financial success. The pendant is adorned with two sparkling diamonds, positioned at the top and below the bee, adding a touch of brilliance and elegance. Pair this with other fancy gold necklaces of varying lengths for a chic and sophisticated look.
14kt Yellow Gold A Pendant for Inseparable Friends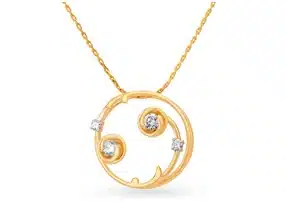 The 14kt Yellow Gold A Pendant for Inseparable Friends from Core Collection is a mesmerizing piece of jewellery that pays tribute to the unbreakable bond of friendship. Inspired by the graceful twirls of a rose flower, this pendant captures the essence of the emotional journey shared between friends. Whether paired with a long skirt or denim, this pendant elevates any outfit, adding a vibrant touch to your complete look. Celebrate the joy of friendship by gifting your dear friend this stunning round gold pendant, a timeless symbol of love and affection.
14kt Friends Of Bride Yellow Gold Pendant with Semi-Orb Design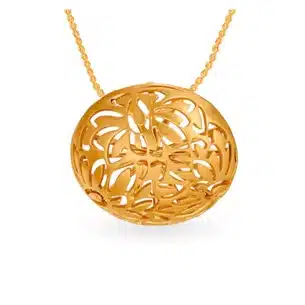 The craftsmanship in this round gold pendant is exceptional, with intricate details that catch the eye. The two curved loops at the back of the pendant allow for easy attachment of a chain, making it convenient to wear. The high-polished finish enhances its shiny appearance, giving it a luxurious and radiant look. What makes this truly unique is its versatility.
It can be worn with both casual and formal outfits, adding a touch of elegance to any ensemble. The semi-orb design gives it a modern and contemporary feel, making it a perfect accessory for the fashion-forward individual. The quality of the pendant is outstanding. The 14KT yellow gold is durable and long-lasting, ensuring that it will withstand the test of time.
Final Words
Round gold pendants are versatile, timeless, and elegant accessories suitable for any occasion. Whether attending a formal event, going out casually, or enhancing your everyday look, a round gold pendant can elevate your style. With various designs and options available at Mia by Tanishq, you can find the perfect pendant that reflects your personality and fashion sense.
Read more on KulFiy
Spring Men's Style-Sloppy-It's Just Not Performing
Where Can You Buy Kinky and Curly Hair Clip In Extensions