In Windows, creating a secure copy of your entire computer allows you to use backup image files to quickly restore your system to its normal operating state at the time of backup without worrying about data loss problems or time-consuming system repair in case of hardware failure, system crash, virus attack, and other emergencies.
To complete the backup of your computer files or system, you need a good free backup software to meet your needs. Free backup software is exactly what you want it to be: a completely free program that can be used to manually or automatically copy important data from your computer's hard drive and keep it in a safe place. In case of unforeseen emergencies, you can restore this backup file to reduce data loss.
Need best free backup software for Windows 11/10/8/7 for data protection
To enable such tasks, you probably need the help of an all-in-one backup software. Luckily, there's one recommended here for you, that is AOMEI Backupper Standard. As the best free backup software, it owns a variety of marvelous features to make PC backup and it's totally free of charge.
Various backup types. It supports system backup (system files, boot files as well as applications and user data), disk backup (both system partition and non-system partitions), partition backup (D: drive or E: drive), file backup (documents, photos, music and so on) and cloud backup to meet your various needs.
Multiple backup destinations. You are allowed to backup files or OS to internal/external hard drives, network, NAS devices, cloud drives, etc. Also, AOMEI owns its cloud, you can backup files to AOMEI Cloud as well.
Backup changed files only. To save time and improve backup efficiency, you can schedule your task to make an automatic backup as daily/weekly/monthly, thus any changes won't be missing.
Save disk storage space. It offers you full, incremental and differential backup. The later two backup methods save only changed data to do you a big favor in reducing the size of backup image.
High compatibility. This powerful utility runs smoothly on Windows 11/10/8.1/8/7/XP/Vista.
How to backup Windows OS and data with AOMEI Backupper
Now you can download free backup software for Windows 11/10/8/7 and install it on your computer. If you want to backup your computer to an external hard drive or other storage as backup destination, please prepare one in advance and be sure it's recognized properly.
How to make Windows 10 backup OS and data with AOMEI Backupper:
Step 1. When you installed this freeware on your PC, open it. Choose Backup from the left list and then click System Backup to create a full backup for your system. If you want your files to be backed up, you can choose File Backup instead.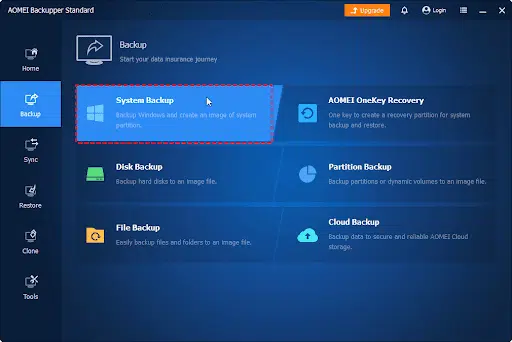 Step 2. The required system related partition(s) is selected by default. Select your destination path by tapping the option box below to save your system backup image.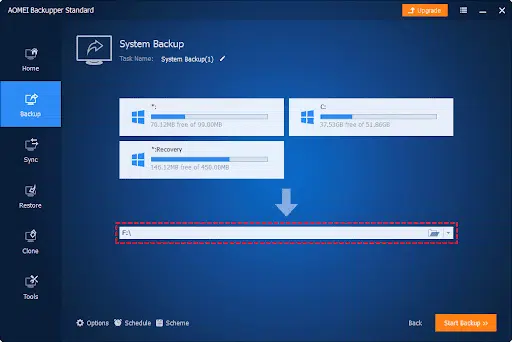 Step 3. Then click Start Backup to get start to backup your Windows 11/10 or other operating systems.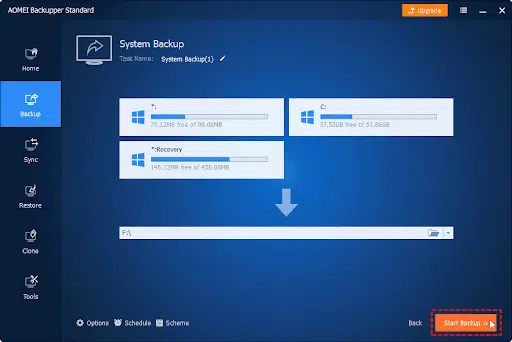 ? Other outstanding features: AOMEI Backupper supports encrypting a backup with a password, setting a custom compression level, receiving email notifications once backups have completed, splitting a backup into pieces of a custom size (like for CDs and DVDs), and choosing between an exact backup (copies used and unused space) or an intelligent sector backup (just backs up used space).
To sum up
That's all about the best free bare metal backup software to backup Windows 11/10/8/7 operating systems and data. If you are seeking best free backup software for all Windows, AOMEI Backupper is worth a try. It enables you to backup all kinds of data on your computer to different locations such as local/external disk (HDD/SSD), network location, NAS devices, USB drives, cloud services, etc.
Moreover, AOMEI Backupper is more than a backup software, it comes with clone feature as well. As the best software to move windows 10 to ssd, it enables you to easily clone HDD/SSD to Integral SSD with just a few mouse clicks and make it bootable. With so many outstanding features, you won't regret giving it a shot!
Read More on KulFiy:
Online Backup Provider Reviews: What to Consider Before Choosing a Service?
An Overview of Magento Inventory Management