California is seeing an improvement in its housing market after a significant time. While rental prices and property values continue to increase, the conditions have become more favorable for investing in real estate. In California, individuals, as well as companies, hold high stakes in different properties. These investors use the properties for rentals, commercial offices, or further residential sales. California is a unique marketplace for real estate investment as it provides investors with safe and risky investments, allowing them to achieve high returns with different properties.
Factors That Make California an Attractive Location for Property Investment
1. State Economy
While most businesses still suffer the effects of the 2009 recession to this day, there has been an improvement in California's economic condition, which has proven to be favorable toward the housing market. With steady growth in income generation, investors have a higher purchasing power to invest in property. California also holds the title of having the world's 5th largest economy.
2. Return on Investment
The past 2-3 years have seen a significant increase in property values in California. High prices often push people to rent properties rather than make a purchase, which allows investors to establish rental properties for high returns. Companies dealing with property management in Oakland California can help investors understand the ROI on different types of properties before making a final decision, which is why it is always beneficial to make a consultation.
3. Seller's market
Los Angeles has become highly favorable to sellers due to the limited number of properties compared to demand. With a gradually rising demand, investors will have better opportunities to sell or rent properties to generate higher returns.
Because California is a vast state, it becomes necessary for all investors to find the most suitable place for property investment. You want to choose a city or locality attractive to potential tenants or buyers. You also want to go for an area that will be profitable and generate favorable returns. So how do you determine which place in California will be most suitable for property investment? Here's a look at some of the best areas to help you make an informed decision.
8 Best Places for Real Estate Investment in California
1. San Diego
It is the second-largest city in California and is home to over 1.4 million people. San Diego also has an active nightlife and one of the best education systems, making it ideal for families and working young adults. In recent times, metro home property prices have increased, and experts believe there will be a 0.4% growth up to September 2023, making it a promising city for property investments. Investors can choose to invest in commercial or rental properties in San Diego to generate high returns on their expenses. Before making a final investment, people can consult with property management San Diego companies for a current understanding of the market and evaluate the conditions for a worthy investment.
2. Irvine
The city has witnessed a 103.21% increase in real estate, especially with rental properties, making it a reliable place for investments and high returns from rentals. It is one of the best cities for family homes, with safe neighborhoods and high-quality schools. Irvine is also home to large corporations such as Samsung, Honda, etc., making it suitable for growing employment opportunities. Investing in Irvine properties can generate high returns from property sales or leases to corporate or educational institutes.
3. Palo Alto
The city is located in the California Bay Area and is considered one of the five most expensive cities in the US. It is the perfect place for investors who are okay with a pinch for property investments, as in October 2022, the median price for a home in the city was $3.5 million. The heavy investment does allow investors to achieve high returns from rental establishments and leases to luxury individuals.
4. Manhattan Beach
The city is home to numerous luxury homes and is often referred to as the "Pearl of the South Bay," as it houses some of the wealthiest people in LA county. The property appreciation rate was 4.9%, making it a favorable option for investors looking to make luxury investments in real estate. If investors want to own properties that generate high income, luxury properties will help bring in desirable returns from rent and commercial leasing.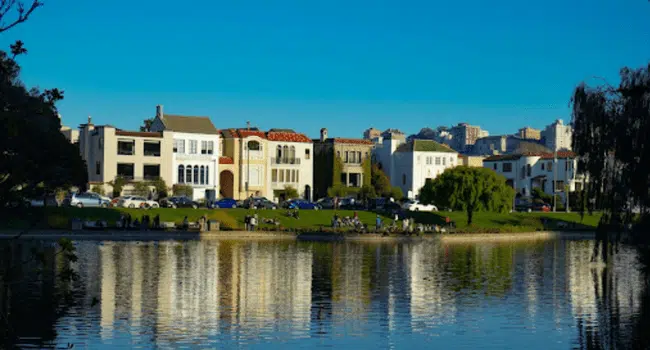 5. Palm Spring
The city is one of the most attractive locations for family homes and retired individuals, with a wide variety of condos, luxury homes, etc., available for purchase. The popularity of the properties makes it an ideal location for high-return real estate investment, as the high demand allows investors to grow their returns from renting family or luxury properties across Palm Springs.
6. Lake Forest
It is one of the wealthiest small towns in the US and is best known for its parks and residential properties. With different outdoor activities and luxurious provisions, Lake Forest is one of the best places for real estate investment, as the housing market has seen a 14.8% growth in the last year.
7. Redlands
The city is known for its rich history, making it a perfect spot for tourists and active adults. The housing market is growing at a steady pace of 6.9%, making it a favorable location for real estate investments and rental incomes.
8. Sacramento
California's capital city is an affordable option for family homes and first-time buyers. With the real estate market growing by 5.4%, it has become an attractive area for different property investments. Sacramento is home to numerous startups and tech firms, making it a beautiful place for employment opportunities.
Endnote
With the growth in California's housing market, there has been a rise in real estate investors looking to achieve high returns from different properties. Before investing, however, it is necessary to find the optimal location that will allow you to generate high returns from single or multiple properties. Hence, selecting any of these cities will make it convenient to go for favorable properties and make the most of investments in the California housing market.
Read more on KulFiy
5 Ways to Begin Investing In Real Estate with Little or No Money
5 Things You Need to Know About Buying Real Estate in Mexico