Yoga Teacher Training in India, Goa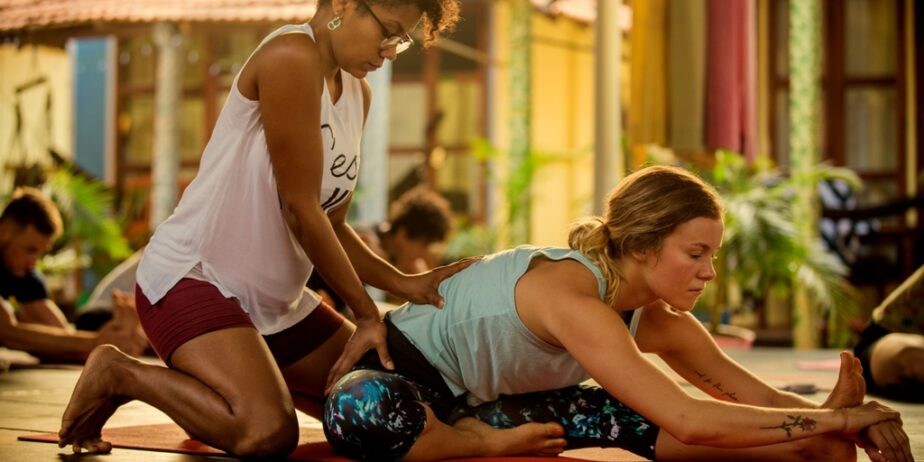 The main objective of Yoga teacher training course in Goa India is to allow you to develop a self-practice both spiritually and physically in each of the areas listed below. Diploma in yoga is a full time yoga curses level program in yoga and meditation program. The program is covered in the course of one year covering all the major aspect of the study of yoga. The aim of this course is to train and prepare deserving candidates in the aspects of yoga.
Kranti Yoga Academy offers residential 100 hour, 200 hour, 300 hour and 500 hour affordable yoga teacher training courses in Goa registered with yoga alliance USA. Kranti yoga school is running different types of yoga TTC certification courses like RYS-100, RYS-200, RYS-300 and RYS-500 yoga teacher training course and other intensive or short yoga courses.
Yoga school in Goa offers the opportunity to journey into the depths of your yoga practice. It offers the natural haven for those who seek an experience and environment in which to evolve in the body, mind and spirit. We are globally known for world class yoga TTC in Goa India. Kranti yoga school is the first and oldest Ashtanga yoga school in Goa and it has since expanded and become a haven for study and practice for yogis from all around the world.
Yoga Teacher Training Courses in Goa – Dates schedule
2 Sep – 28 Sep 2020
2 Oct – 30 Oct 2020
2 Nov – 28 Nov 2020
2 Dec – 29 Dec 2020
2 Jan – 28 Jan 2021
Accommodation Features and prizes
1. Hot water
2. Wi-Fi throughout the Yoga Village
3. Mosquito net
4. Porch with hammock and swing seat
5. 24 hr security
7. Daily cleaner, on request
8. Warm bedding, fresh bead sheets, wash towel, hand towel, beach towel, toilet paper, hand wash
9. Fully equipped spacious western bathroom with shower and toilet
10. Huts made of completely natural materials
11. Free phone for local calls
12. Security locker
13. Communal fridge
14. Washing machine (extra charge)
15. Herbal teas and drinking water available all day
Fees: Start 1000 Euro
Venue Address: Kranti Yoga Village Beach Resort, H. No. 135, Patnem Beach, Canacona Goa, India 403702.
Email: ashtangagoa@gmail.com
Contact No. + 91 9823984494
URL: https://www.krantiyoga.com
Call Information
Bookings and Information Please
Call: +91 9823984494 ( Anusha )
Chat with senior Teacher Stephanie: +44 7825 915467