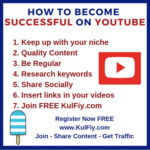 Public Group
Active 3 years, 6 months ago
Register on KulFiy => https://www.kulfiy.com/community/?foro=signup
YouTuber's Help From KulFiy.com is a Genuine group for genuine members, who are really passionate about YouTube and want to do Something different in their life.
Group Rules :
Help Each other which is the main motive of KulFiy.com
Don't Spam with Links, Promotion etc.
Be kind and human being with each other.
Do not behave wrong and mislead each other.
Communicate each other with Knowledge.
Thanks