Jewelry is always in style, although the trends tend to shift and change. Accessorizing an outfit with a cute and trendy piece of jewelry can help you feel confident and look great. You can add a touch of style to any outfit, whether you're dressing up or keeping it casual, simply by adding a piece of jewelry. Check out some of the current trends and how to accessorize your next look.
Funky, Oversized Earrings
Oversized earrings are super in right now, and they add some funky flair to any style of outfit. You can choose from various types of earrings, including shimmery chandelier earrings that hang down well below the earlobes or thick gold hoops that draw inspiration from 1980s styles. Fringe earrings are also popular, which look similar to chandelier-style earrings but vary in length. Shoulder-grazing earrings will definitely turn some heads, and choosing a pair with funky styling will help you stand out in the crowd.
The Pretty Set of Pearls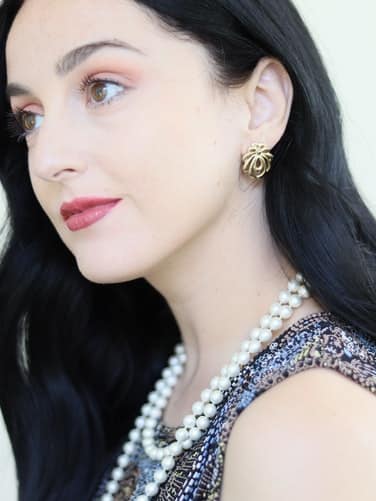 Pearls are effortlessly stylish and always on-trend, but they're making a resurgence this year. You can stick with the traditional round pearls on a strand or try pearls in unique shapes to add some interest to your look. Some of the main pearl shapes available include semi-round, baroque, circle baroque, and drop. Baroque pearls are the most unique, as they're asymmetrical and no two are exactly alike. As a bonus, these pearls are some of the most affordable.
If you're not sure how to wear pearls, try donning a strand with your next outfit to see how you look. You might prefer to wear pearls with more upscale apparel, such as a suit or dress. But pearls can complement any style, so don't hesitate to wear your favorite strand with a casual look as well.
Silver Stacked Rings
Silver is in style this year, and there are many ways to wear this neutral and beautiful metal. One popular way to add some silver into your accessory closet is to pick up some silver rings. Stacking those rings will keep you looking stylish. You can keep the look neutral with plain silver bands around your fingers or add some flair with rings adorned with gemstones or designs etched into the metal. Enamel rings are also in style, although fall and winter call for more subdued shades rather than the bold colors of spring and summer.
Statement Necklaces
A necklace that makes a statement is a great addition to any outfit. You can implement your own style preferences when choosing this type of accessory. If you like the look of metal, try a necklace that features a large gold or silver coin on a chain. When you want to add some color to your outfit, choose a statement necklace in a bold shade.
You can make a statement with a choker or a necklace that falls below the collarbone. Neutral accessories look good with a statement piece like this, such as simple earrings or a few stacked rings on your fingers.
Stay current with the latest jewelry trends as you style your looks for the upcoming fall season. You're sure to look and feel your best when you're dressed to the nines.
Read more on KulFiy
Best Jewelry Trends to Follow in 2021