Contact for Pricing => KulFiy.com@gmail.com
[Sticky]

How to Increase Traffic On Website ?
04/12/2018 4:52 pm
Topic starter
How to Increase Traffic On my blog Website.can any one help me.
Hi @blogontop This is very normal question often asked by bloggers, content writers and youtubes that How to Increase Traffic on Website, blog or content?
In this post I am sharing some best method to Increase your website traffic for free and also I am sharing an important video which will help you to do.
 Create you Free account on KulFiy.
Invite you friends through social network to Join KulFiy Subscribe you posts on KulFiy. This will boost your website traffic and Google ranking.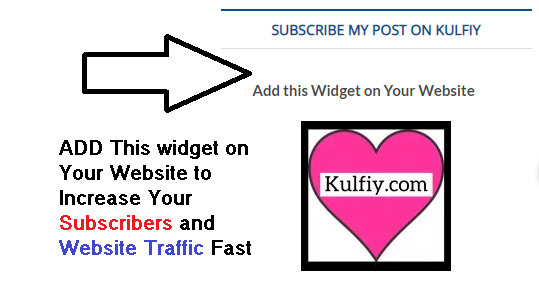 Do same with your Community Profile> Side menu > Account >
Click on your profile page > Activity > as shown in image below :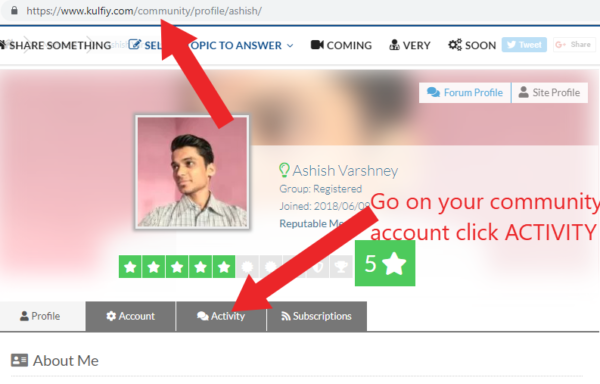 Now Click and See below image

3. Share Your post on social media and KulFiy everyday to Engage your audience.
4. Be genuine with your audience and give proper value to them.
Here I am sharing a video Tutorial with you of How to increase traffic on website.
Watch this video on YouTube and share if you like this video.
YouTube video how to increase traffic on website FREE for Life
Thanks me later and Comment me How helpful did you found my post and video
Have you been receiving less traffic and it feels like you're not trying your best. Writing articles and publishing your article, passing through a lot of stress just to keep your blog users updated.
But despite all your stress you've not been receiving much traffic, sometimes you will feel bad. Well there must be something going on with your blog with you not reaching your full potential.
Not to worry. I have here the ways to drive traffic to your blog. Check out the easy ways of driving traffics to your site.
With these easy ways,I can assure you that you will get to receive much traffic less than a week. This process sure helps me.
Below are the listed ways of getting the easy traffic :
--> Optimise your website content/article.
--> Make use of social media.
--> Plan your content.
--> Enable in-content link/Guest post.
--> Rewrite/repackage your article/content.
Step 1. Optimise your website content/article 
The first thing to apply for is to optimise your blog content/article, doing this will help you a lot in the terms of increasing your web content traffic volume.
When designing your content picture you should design content picture to be more fancy and attractive to your existing users or to whoever that might come across your content in order to clicks to your site/blog.
In order to follow your website/blog traffic, you should install Google Analytics tracking code to your site. Ignore this if you've installed it on your blog already.
There are some of other web traffic tracker if you don't prefer the use of Google Analytics.
Here are two of them :
--> Mix panel
--> Clicky Analytics
Below are some of the most important metrics you should follow on your sites:
--> Page views.
--> Unique visitors(users)
--> Bounce rate.
--> Page per visit(pages/session)
--> Average time on site.
--> Traffic source(search,direct,referral and social media)
--> Exit pages
Step 2: Make use of Social media 
When we talk about the big key on driving traffics to your blog. Social media take a big part in driving traffic to your blog, it takes a big role as it is the major key in driving traffic and showcasing your content to the people who use social media. It helps you to reach more people who have interests in your content.
It is highly recommended to use social media for your blog to generate substantial amount of traffic. This is a better method and more verified way of driving lots of traffic. Social media to use for blog includes Facebook, Pinterest, Twitter, Instagram and Likedln.
These social media networks mentioned above helps a lot in driving traffics. You just don't get traffic on these social media just like that unless you've got what it takes and that means you have to make some sacrifice to attract visitors to your blog through the social media.
This sacrifices are being explained below :
A. Optimise your post. 
In order to drive traffic or attract visitors to your blog through the social media you need to optimise your post.
You can optimise your post by doing these:
I. Create a high quality/attractive photo.
II. Writing quality description.
III. Use a compelling link description under the photo.
B. Don't be Spammy
In order to be true and Spammy about posting to the media network you have to follow some rules. Some of the rules are:
I. Don't repost the same content over and over again.
II. Don't post too frequently.
III. Schedule your posting.
If you follow the above rules you will surely be true and at the end of the days traffic will come in to your blog and also you won't be blocked or referred as spammy on social media networks.
C. Make your content share-able 
Adding sharing button to your blog will help you a lot in many ways. This allows your visitors to share your content in their timeline and also on the other hand giving you another opportunity of getting visitors to your blog. Care to add the social media share button?
 Check these websites that helps you to integrate the social media share button to your blog.
--> Share counts
--> Share this
--> Add this
--> Sumo Share app.
These above tips will help you to maximise your social media network traffic. To get started create a facebook page and group --> How to create facebook page and group-->
 When done with that, you need to post regularly to keep your page visitors, if you want to automatically post to your facebook page whenever you create a post on your blog. Check --> How to automatically post to your Facebook page and group.
Step 3. Plan your content 
Getting more traffic,users and visitors is so easy If you know how to write a well planned and fancy headlines. Great headline are the keys of getting more visitors on whatever platform your post may appear.
Make sure you plan your content headlines to make it more professional to enhance those who come across your post.
Writing a fancy and well planned content headlines helps your blog to stand out and helps you grow ranks in Google Search and social media Analytics.
To get your blog article headlines well planned you need the right keywords to help you get more traffic in order to get the right keyword use Google Keyword planner.
Search word based in your blog niche and also make sure you pay attention to the average monthly searches of the keyword you intend to use, you should be more focus on keywords that are less competitive and in which get a lot of search
Take the following into consideration when creating an article headline:
--> Create sense of urgency if viewers.
--> Use power word to attract clicks.
--> Make your article headline value stay clear.
--> Ask questions.
--> Trigger the emotion of readers
Use the website below to analyse your article headline when creating them :
--> Impact blog title generator.
--> Sumo headline generator.
--> Seopressor blog title generator
--> Co-schedule headline analyser
Another key part of getting your visitor come back for more Is by creating/writing a well defined content. When your site doesn't have an article to please your readers they bounce out and this will affect your traffic
Getting your readers to read your articles unto the end is the best, it will show that you own a good blog and this will increase your site traffic.
Below are the way of getting planned for a steady post read:
(A) Making your readers hooked to your article at the beginning is a great way of making your reader getting relaxed. You should tell story or be more narrative/explanative to get the mind of your reader on what you are about to teach them.
This is the best way of making them stay on your blog to read what you are about to say, try writing with you thinking you are reader, state the problems you have face on the particular article and why decided to post the articles.
(B) Use shorter paragraph, don't make it look too dull
Make use of shorter paragraph with about 3-5 lines to make your blog content look neat and attractive to readers.
(C) Always go through your article on and in most of time. 
This will make you certain you are using the right word and also makes you certified that you don't have mistakes on your articles, so as to make your article more readable and clearer to your readers. This helps a lot to correct your mistakes.
(D) Learn to make user/reader think you are right. 
Write your articles in a way that will make readers think you are right, telling them the exact ways you've come across the same issue and the solutions of getting out of the issues.
Step 4. Enable in-content link and Guest post. 
Doing this is a way of recurring traffic throughout your blog, therefore increasing your traffic.
You should always include in-content link redirecting your readers to a particular article to give them a better views, understanding what you're letting them know in the previous post. This will help them to be able to be certain about what you're teaching them. 
--> You should also include guest posting, this will help you get to know your reader/user on what they really want and what they know. This allows proper interaction between you and the
Step 5: Re-write/re-package your article/content.
Never leave at article thinking It's old and irrelevant, this could kill your blog traffic, instead of deleting articles, reconstruct then to how you see it fit.
Rewrite your article and stuff it with new features in order to make it brand new. Repost the article to your social media networks page and don't forget to make it look like a repost
Create a video for your content making it looking so sweet so that your readers won't overlook it. Make sure your video is so explanative and educative, if possible you could use amazing animation in the creation of the video. You could monetise your video on YouTube and earn from Google Adsense.
With the above steps and ways of getting more traffic both from Google Search and social media.
You will get to know that you will benefit from it, if you work accordingly to how it goes. You will get better results within a week.
This article steps was tested by me and it really worked for me.
Do you have any other questions don't forget to comment and also share this post, because sharing is caring.
For more info visit: https://www.currentlypost.com.ng/2018/11/the-5-unique-ways-to-increase-your-blog.html
Share your site on social media channels
Get more website traffic – 10 Ways to Drive Traffic to Your Website
The Growing of a website is Get more website traffic. here some tips for Get more website traffic– 10 Ways to Drive Traffic to Your Website
A decent business site resembles having an additional representative—one who works every minute of every day and can be the substance of your organization, give data, answer inquiries and even make deals. In any case, what great does that do you on the off chance that you aren't getting guests to your site?
In this post, we'll cowl 13 of the various approaches to direct individuals to your web site.
The Importance of Website Traffic
Site traffic is both an imperative pointer and driver of business development. It can push you to:
• See how well your promoting is functioning
• Gather understanding regarding your cluster of onlookers to choose to• Improve your SEO and web crawler validity
There are 1.24 billion sites on the planet. That is a great deal of rivalry, however, remember that you're not attempting to draw in all web clients. You will probably get more individuals in your intended interest group to visit your site. The following are some straightforward approaches to build the measure of traffic that you are getting to your site.
1. Perform On-Page SEO
There are numerous SEO strategies you can perform on every one of your site pages to build their position in web indexes and get more guests. This incorporates delivering brilliant substance that your gathering of people is looking for and composing brief meta portrayals for your pages. The meta depiction shows up beneath your URL in indexed lists. Recognizing what a page is 
Click here for more
27/12/2018 10:11 am
Topic starter
If you want to earn online money .. i will provide you a link of blog.. if you are interested in online shopping website or interested to make a blog website . first read all the blog you will get idea how to earn money.
Click here :  https://www.blogontop.com
You can increase website traffic in two ways:
Using Free traffic Exchange Websites
Increase organic traffic with SEO
Free traffic exchange websites can increase websites traffic rapidly but it can affect on websites search engine visibility. Those who are aware of the bounce rate can understand how free traffic exchange affects your website ranking.
If you are a beginner want to increase your website traffic then you can go with the traffic exchange but remember, it is not used for a long time. You can take help of traffic exchange to increase the popularity of the newly launched website.
Know more about Free Traffic Exchange Websites Pros and Cons
Search Engine Optimization to increase website Traffic
To get the best result from the SEO, you have to focus equally on On-page and Off-page OPtimization.
On-page Optimization is used to increased the speed of the website and manage the content in snippet as well.
Few On-page SEO tricks are
Title and Meta Tag Optimization
Image ALT tag optimization
Include Head Tags such as H1, H2 and H3… H6
Optimize Image Size
Sitemap Generation
Robot.txt creation
You can use tool TinyPNG to compress Image size, that will reduce image size without affecting quality on the image.
Off-page Optimization is used to build links for the websites. Few methods of link building are
Profile link submission
Directory submission
RSS feed submission
Guest Posting
Press Release Submission
Advanced SEO tricks to boost website traffic and ranking:
Advanced SEO is a term which refers to the new techniques and tricks used to boost your website ranking.
Google Regularly updates its searching algorithm. Every new update comes up with new ways and techniques to the rank a website on search engine.
Nowadays Doing On-page and Off-page Optimization is not enough to increase your website ranking.
As technology gets more sharpen day by day. The way of searching on search engine also getting change. Google Assistance, Amazon Alexa, Microsoft Cortana and Apple Siri are the new era of searching. Yes, Voice Searching is getting more popular now.
Voice search getting increase sharply and it is the next big thing is SEO.
44% of people's perform Voice search once.
Voice search increase by 35X from 2008.
20% of all searches on mobile are voice search.
To stay in a voice search, you need to update your SEO workflow and implement Advanced SEO techniques. Advanced SEO is nothing but the new techniques of SEO used to rank your website. Few of Advanced SEO techniques are as below,
Write RankBrain Friendly Content
Rank Content in Featured Snippet
Optimize for Google's Mobile First Index
Go with the Videos
Optimize for Voice Search
Know more about Advanced SEO techniques and How to implement it, check out an in-depth article on Advanced SEO Techniques 2019
There are lots of off-page activities in SEO to get more traffic to your website. The question answering portal, forum discussion, and Social networking sites are the major sources for getting more traffics.
Good post. I agree many of the with the solid points made by the writer word unscrambler
Improve offline marketing strategies: Offline marketing efforts are a great way to increase the amount of direct traffic your website is getting Onmovies For Android